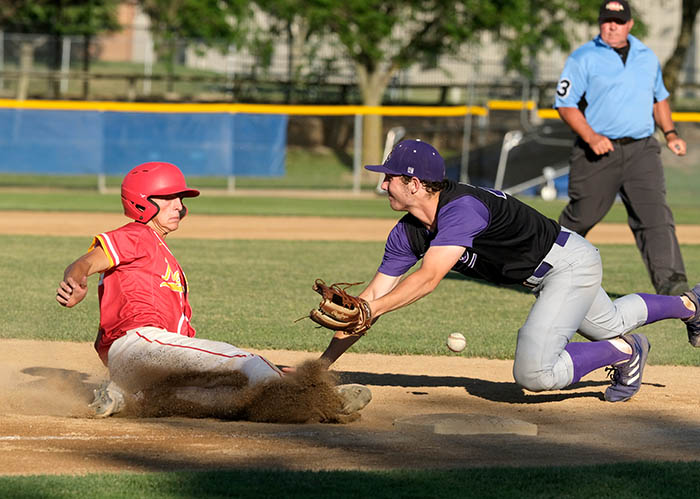 Baseball Results Saturday, June 25th  
Kuemper Tournament 
Kuemper Vs Pocahontas Area- Semifinals  
Kuemper 14
Pocahontas Area 13    (8 Innings)
Kuemper had a chance to end the game in the 5th inning, leading 9-0 with a runner on 3rd base but weren't able to score. They had to rally in the 7th inning, trailing 13-9 to tie the game at 13 and send the game to extra innings. Kuemper scored in the bottom of the 8th inning, when Trevor Rial scored on an error.
Cal Wanninger scored in the 1st inning on a Indians error. The Knights added 2 more runs in the 2nd inning, then began to open things up in the 3rd. Carter Putney lead off the 3rd with a double, followed by a single from Cal Wanninger, scoring Putney, Benicio Lujano reached on an error and Trevor Rial singled scoring Wanninger. Cooper Pottebaum walked to load the bases and John Boes singled to score all 3-runs. Koby Lampman grounded out but scored Boes and Kuemper scored 6-runs in the 3rd to lead 9-0.
Cooper Pottebaum singled to lead off the 5th but the Knight left him stranded on 3rd. That changed momentum of the game. Pocahontas Area batted 14 guys in the 6th, scoring 9-runs. They added 4 more in the 7th to grab a 13-9  lead. Cooper Pottebaum reached on an error with 1 out in the 7th and the rally was on. John Boes was hit-by-pitch, after a fly out to left field, Koby Lampman singled to score Pottebaum. Logan Sibenaller singled to score Boes cutting the deficit to 13-11. Koby Lampman scored on another Indian error and Sibenaller tied the game on a passed ball. The Knights scored 4 times in the 7th and sent the game to extra innings. Carson Bunda was hit-by-pitch for Pocahontas Area to start the 8th but the Knights didn't allow him to score. Trevor Rial reached for Kuemper on a 1 out single in the 8th inning. Cooper Pottebaum was walked and John Boes hit a ball to left field that was misplayed. Rial came around to score the winning run.
Carter Putney, Trevor Rial, Cooper Pottebaum and John Boes all had 2 hits with Pottebaum and Boes each scoring 3 times. Boes and Koby Lampman both had 3 RBI.  Cal Wanninger, Benicio Lujano and Trevor Rial all scored twice.
Kuemper Stats
Logan Sibenaller 1-4, RBI, RS, SB, BB
Carter Putney 2-5, 2B, RS, 2 SB
Cal Wanninger 1-5, RBI, 2 RS, 2 SB
Benicio Lujano 2 RS, SB, BB
Trevor Rial 2-5, RBI, 2 RS, 2 SB
Cooper Pottebaum 2-3, 3 RS, 2 SB, 2 SB
John Boes 2-4, 3 RBI, 3 RS, 2 HBP
Max Irlmeier 1 RBI
Koby Lampman 1-3, 3 RBI, RS
Mason Knerl 5 1/3 IP, 10 Hits, 9 RA, 8 ER, 2 BB
Jared Hausman 2/3 IP, 1 Hit
John Anthofer 1 IP, 2 Hits, 4 RA, 2 ER
Tate Bieret 1 IP
Box Score
Teams     1      2     3     4     5    6    7     8   Final
Pocy          0      0     0      0      0    9    4     0        13
Kuemper  1      2      6      0      0    0    4     1        14
Kuemper Vs Spencer- Championship Game 
Spencer 7
Kuemper 6      (8 Innings)
Kuemper nearly made a great comeback, rallying again in the 7th inning to send the game to extra innings. Spencer would hit a solo home run to lead off the 8th and would hold on, picking Kuemper off base to end the game in the bottom half. Spencer scored first, getting two runs in the 2nd inning, then extending the lead with  4-runs in the 6th. Kuemper had threatened in the 2nd with three guys reaching base but left two on, then threatened again in the 4th, but left runners on 2nd and 3rd. For the most part they had been stymied by a solid pitching and defensive effort by Spencer. Kuemper finally broke free in the 6th with a pair of runs, then scored 4 in the bottom of the 7th, the last coming on a passed ball. The Knights had a chance to win it in regulation but left runners on 2nd and 3rd.
Kuemper Catholic Baseball Vs Spencer 6-25-22
Carter Putney was hit-by-pitch to start the 6th and scored later in the inning on a wild pitch. That was after stealing 2nd and taking 3rd on an error. Nate Heinrichs singled and scored the second run of the inning on a ground out by Trevor Rial. The Knights had as many hits in the 6th inning as they had in the previous five innings. Koby Lampman doubled to start the 7th, followed by a singles from Carter Putney, Cal Wanninger and Benicio Lujano. Putney and Wanninger picked up RBI. Griffin Bauer, came in to run for Lujano and scored the tying run on a passed ball.  The Knights got a couple runners on in the bottom 8th after Spencer took a 7-6 lead in the top half but one was forced out and the game ended on a run down between 2nd and 3rd.
Cal Wanninger and Benicio Lujano each had 2 hits with Putney scored a pair of runs. Putney, Cal Wanninger, Trevor Rial and John Boes all had RBI. Carter Putney went 4 1/3 innings, allowing 2 earned runs.
The Knights went 1-1 on the day,  moving to 15-12 overall. They travel to Clarinda for a doubleheader on Monday.
Kuemper Stats
Carter Putney 1-4, RBI, 2 RS, HBP, 2 SB- Pitching 4 1/3 IP, 4 Hits, 2 RA, 2 ER, K, 5 BB
Cal Wanninger 2-4, RBI, RS
Benicio Lujano 2-4, SB
Trevor Rial 1 RBI, BB- Pitching 1 IP, 1 Hit, 1 RA, 1 ER
Cooper Pottebaum 1-2, HBP,BB, SB
John Boes 1-2, RBI, 2 BB
Koby Lampman 1-3, 2B, RS, BB- Pitching 1 2/3 IP, 2 Hits, 4 RA, 3 ER, 2 BB
Nate Henrichs 1 RS
Griffin Bauer 1 RS
Logan Sibenaller 1 SB
Jared Hausman 1 IP, 2 BB
Box Score
Teams     1      2     3     4     5    6    7     8   Final
Spencer    0      2      0      0     0    4     0      1       7
Kuemper   0    0       0      0     0    2     4      0       6
Brent Prange Classic
Coon Rapids Bayard Vs Ankeny Centennial At Johnston 
Ankeny Centennial  11
Coon Rapids Bayard 1            (5 Innings)
Coon Rapids Bayard battled hard, hanging close until the 5th inning. The Jaguars scored 4-runs in the 1st inning but didn't score again until the 4th inning, when they added a pair of runs. Coon Rapids Bayard scored a run in the top 5th but the Jaguars scored 5 in the bottom half to end the game. Coon Rapids Bayard used four pitchers due to pitch count issues and they combined to allow 7 hits with 6 walks and 1 strikeout.
Cal Heydon had an infield single for the Crusaders. Parker Hays scored Tanner Oswald with a sac bunt after Oswald had reached on a hit-by-pitch. Kolby Culbertson was hit-by-pitch twice, Easton Hays was hit-by-pitch and Lance Clayburg walked.
The Crusaders fall to 21-4 on the season. They finish up a suspended game with CAM Anita on Monday then play a regular scheduled game against the Cougars in Coon Rapids. Coon Rapids Bayard leads the suspended game 3-2 in the bottom 3rd. The Crusaders lead CAM Anita but 1 game in the Rolling Valley Conference.
Coon Rapids Bayard Stats
Cal Heydon 1-2- Pitching 1 Hit, 3 RA, 3 ER, 2 BB
Easton Hays 1 HBP
Lance Clayburg 1 BB
Tanner Oswald  1 RS, HBP
Kolby Culbertson 2 HBP
Parker Hays 1 RBI- Pitching 2/3 IP, 1 Hit, 2 RA, 2 ER, 3 BB
Preston McAlister 3 IP, 3 Hits, 2 RA, 2 ER, 2 HBP
Tanner Oswald LP, 2 Hits, 4 RA, 2 ER, K, 2 HBP, BB
Box Score
Teams     1      2     3     4     5     Final
CRB           0      0      0     0     1        1
AC             4       0     0      2     5       11