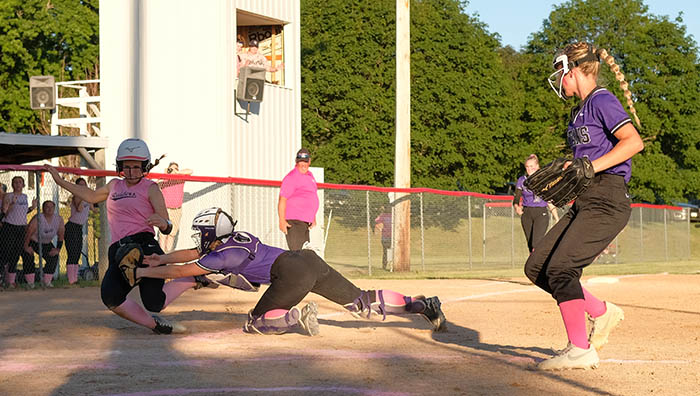 Softball Results for Friday, June 17th
Nevada at Carroll
Carroll     8
Nevada   4
The Carroll Tigers continued to perform well outside of the Raccoon River Conference as they took down Nevada Friday evening. 
The Tigers in this game really hit deep balls well and played consistently well all across the board. Nevada started off with the early 2-0 lead that was answered by Carroll with a run scored in the bottom half of the inning. The Tigers later grabbed the lead in the bottom of the third with a big three-run inning to lead it 4-2. While Nevada got a runner home in the fourth to cut down the Tiger lead to 4-3, Carroll kept their offensive momentum going with two runs scored, extending their lead to 6-3. Some playmakers from Carroll included Parker Adams who was a perfect 4-4 at the plate with two doubles and three RBIs and Ava Gross who went 2-4 with a double and two RBIs. The Tigers were able to crush five doubles in this game including a triple from Camryn Schable. 
Carroll in the sixth inning was able to bring their lead to 8-2 with another two-run inning, but allowed Nevada to score another run in the seventh to cut down their lead to 8-4. While the Cubs put up 13 hits, the Carroll defense only allowed them to get four earned runs. Alyssa Brant was in the circle for the Tigers and she also recorded six strikeouts to grab win number six on the season as a pitcher. Nevada was unable to produce any more runs and Carroll brought home win number nine on the season by a final score of 8-4. 
This win improves Carroll to 9-11 overall on the season. The Tigers return from the weekend as they take on North Polk on the road on Monday, June 20th. 
Carroll Stats
Parker Adams: 4-4, 2-2B 3 RBI
Brielle Hinners: RBI, BB
Ava Gross: 2-4, RS, 2B, 2 RBI
Camryn Schable: 1-3, 3B
Makalei Kofron: 1-3, 2B
Vanessa Ayala: 1-4, 2B
Averi Burke: 1-3, RS, SB
Emma Kuhlmann: BB
Alyssa Brant: 1-2; Pitching: 7 IP, 13 Hits, 4 RA, 4 ER, 6 K, W
Brenna Goins: RS, SB
Josie Ayala: 2 RS, 2 SB
McKenna Vincent: RS
Olivia Rowedder: 1-1, 2 RS
Team       1  2  3  4  5  6  7    Final
NEV          2  0  0  1  0  0  1  |   4
CARR        1  0  3  2  0  2  X  |   8
Kuemper at Boone
Kuemper      12
Boone           11
The Kuemper Knights escaped a tough road game victorious as they took on Boone Friday. 
Boone was able to get out ahead quickly with eight runs combined in the first three innings, leaving Kuemper with only two in the third inning. Jordan Schwabe and Kenzie Schon were able to score runs with Kenadee Loew scoring Schwabe off a sac hit and Kaylie Diercksen scoring Schon off a single. Kuemper was able to turn the tides quickly after their two run inning with a three run inning to cut down the Boone lead to 8-5. Kenzie Schon had a nice two RBI double that scored Hailey Ostrander and Schwabe while Kaci Peter was scored off a sac hit from Malinda Schaefer. Speaking of Schon, she had a solid night at the plate, going a perfect 4-4 with two runs scored, two doubles and five RBIs. 
Boone's bats were cooled off for three innings while Kuemper played catch and scored another run in the sixth, cutting down the Boone lead to 8-6. Kuemper's big inning came in the seventh when they rattled off six runs and took the lead for the first time at 12-8. Kaylie Diercksen had the lone hit for the Knights in the seventh as most of the baserunners got on the bags due to walks, errors, and fielder's choice. With a four run lead, Kuemper had to keep Boone at bay in the bottom half of the inning to secure a win. The Toreadors got back to back base hits to get two runners on and a sac hit got one runner home. An error at first base allowed another runner to score for Boone then a blooper to right field scored a third runner, cutting down the Kuemper lead to 12-11. The Kuemper defense was able to pump the breaks and tag runners out at home and at third base to stop the Toreadors' chance to win, giving them the 12-11 win. 
The win will elevate the Knights to 10-12 overall on the season. They return to action on Monday, June 20th with a home game against Shenandoah. 
Kuemper Stats
Hailey Ostrander: 1-3, 2 RS, RBI, 2 BB
Melinda Schaefer: 2 RS, RBI, BB
Jordan Schwabe: 2-4, 3 RS, RBI, BB
Kenzie Schon: 4-4, 2 RS, 2-2B, 5 RBI, BB
Kenadee Loew: 1-5, 2 RBI
Kaylie Diercksen: 2-4, RS, RBI, BB
Alexis Diercksen: 2 BB
Kaci Peter: 1-3, 2 RS, BB
Chloe Venteicher: Pitching: 0.1 IP, 5 Hits, 4 RA, 4 ER, K
Kamryn Venner: Pitching: 6.2 IP, 10 Hits, 7 RA, ER, HB, 4 K, W
Team       1  2  3  4  5  6  7    Final
KUE          0  0  2  3  0  1  6  |   12
BOO         4  3  1  0  0  0  3  |   11
South Central Calhoun At East Sac 
South Central Calhoun 14
East Sac 12
Addisyn Korleski drove in a pair of runs top 7th to put South Central Calhoun on top, that came after Keira Hammen drove in the tying run, helping the Titans pick up their first win of the season. The Raiders out hit the Titans 15-12, scoring 7-runs in the first-two innings combined but they were held scoreless in the 5th and 7th innings. Keira Hammen had two more home runs for the Titans and Maci Gustavson had a home run for the Raiders.
The Raiders led 7-3 after two innings and didn't trail until the 5th when the Titans scored twice in the top half to take a 11-10 lead. East Sac responded in the 6th, Maci Gustavson had a one out single, followed by a single from Jamie Pierce. Emersyn Mack drove in Anna McCollough who was running for Gustavson and Pierce, putting the Raiders up 12-11. That set up a terrific finish. Keira Hammen drove in Oliva Toms in the top 7th, after Toms was hit-by-pitch, and Gracie Hungate was walked. That tied the game at 12 and brought Addisyn Korleski to the plate with 2-outs. She singled to score Hungate and Morgan McChesney who was running for Hammen. The Titans took a 14-12 lead into the bottom 7th. The Raiders went down in order.
Addisyn Korleski and Keira Hammen led the Titans with Korleski finishing with 3 hits and 3 RBI. Hammen had a pair of home runs and 4 RBI, with 3 hits total. Emma Anderson and Olvia Toms both had a pair of hits with Anderson scoring 4-runs and Toms finished with 3 RBI and a double.
Maci Gustavson and Emersyn Mack both had 3 hits with Gustavson hitting a home run, a double and a pair of RBI. Walsh drove in a pair of runs. Mary Bontrager, Aleisha Thayer and Jamie Pierce all had 2 hits with Bontrager had 2-runs scored, Thayer had  4 RBI.
The Titans improve to 1-10 overall and 1-5 in the Twin Lakes Conference. They host Storm Lake St Mary's on Monday. East Sac falls to 2-9 overall and 1-4 in the Twin Lakes. They travel to Sioux Central on Monday.
South Central Calhoun Stats
Emma Anderson 2-3, 4 RS, 2 HBP, 2 SB
Olivia Toms 2-3, 2B, 3 RBI, RS, HBP, 2 SB
Adlen Wheelock 1 RS
Keira Hammen 3-3, 2-HR's, 4 RBI, 2 RS HBP, BB, SB
Morgan McChesney 1 RS
Kylee Schleisman 1-3, RS, HBP, BB, SB
Mady Smidt 1 BB
Addisyn Korleski 3-5, 3 RBI, rS, SB
Brenna McAlister 1-3, RBI, RS
Evelyn Kramer 1 RS
Onna Haupert WP,  7IP, 15 Hits, 12 RA, 5 BB, K
East Sac Stats
Emersyn Mack 3-5, 2 RBI
Mary Bontrager 2-4, 2 RS, BB
Meredith Brown 1-3, RBI, RS, 2 BB
Kami Ross 1-5, RBI, RS
Aleisha Thayer 2-5, 4 RBI
Kendal Quirk 1 RS, SB
Jen Aschinger 1-3, RBI, 2 RS, BB
Maci Gustavson 3-4, HR, 2B, 2 RBI, RS- Pitching LP, 7 IP, 12 Hits, 14 RA, 8 K's, 4 BB, 5 HBP
Anna McCollough 2 RS
Jamie Pierce 2-4
Addison Ehler 1 RS
Gracie Snyder 1-3, RS, BB
Box Score
Teams       1      2     3    4    5    6    7    Final
SCC             1      2     3     3      2    0     3      14
ESC            4      3      1     2     0     2     0      12
Boyer Valley at Coon Rapids Bayard
Coon Rapids Bayard     6
Boyer Valley                  0
The Coon Rapids Bayard Crusaders nabbed a solid win against Rolling Valley Conference foe Boyer Valley with a great performance from Emma Hart in the circle Friday night. 
All of the runs Coon Rapids Bayard was able to produce came in the first three innings. They grabbed a run in the first inning, two in the second, and three in the third. Emma Hart had a big night on both sides of the field, going 3-4 with three RBIs, getting help from Anna Hart who went 2-4 with a double and an RBI and Miranda McClellan who went 2-3 with a double and two stolen bases. 
Coon Rapids Bayard was able to allow their defense to go to work from the third inning on, with Emma Hart putting in tremendous work. In seven innings of work, Hart only allowed two hits total with no runs allowed and recorded eight strikeouts for her sixth win of the season. The defense behind her was effective as well, getting 21 putouts on 30 chances while recording two errors total. With Boyer Valley unable to get a run on the board, Coon Rapids Bayard cruised to a 6-0 win. 
The win brings Coon Rapids Bayard to a record of 8-5-1 overall and 6-3 in the Rolling Valley Conference. The Crusaders are in action this weekend when they travel to Guthrie Center to compete in the Audubon/ACGC Tournament on Saturday, June 18th. They open up the tournament by taking on ACGC. 
Coon Rapids Bayard Stats
Emma Hart: 3-4, 3 RBI; Pitching: 7 IP, 2 H, 8 K, W
Lacie Davis: 1-4
Anna Hart: 2-4, 2B, RBI
Breeley Clayburg: RBI, SB
Miranda McClellan: 2-3, RS, 2B, BB, 2 SB
Kadey Olsen: 1-3, BB, SB
Malia Clayburg: 1-4, 2 RS
Bridget Shirbroun: 1-2, RS, BB
Lydia Hofbauer: 1-3, RS
Aubrey Hofbauer: RS
Team       1  2  3  4  5  6  7    Final
BV            0  0  0  0  0  0  0  |   0
CRB          1  2  3  0  0  0  0  |   6
Riverside at IKM-Manning
Riverside            16
IKM-Manning    12
IKM-Manning had a solid lead going into the fourth quarter, but Riverside was able to have a few big innings to take the win Friday. 
The Wolves' offense got off to a good start with nine runs scored in the first three innings. Their defense was also able to keep Riverside at bay with only two runs scored. Ella Richards had a solid night on both ends of the field, going 2-3 at the plate with two RBIs, and pitching seven innings with only three earned runs and two strikeouts. Lauren Greving also had a solid night at the plate, going 2-3 with four runs scored, a double, and three RBIs. The Bulldogs weren't contained for too much longer as they came out of the fourth inning with five runs scored, but were still behind the Wolves by a score of 9-7. The Wolves were unable to get any runs added to their total from the fourth to the sixth inning, but they did keep pace with Riverside defensively. The Bulldogs added another run in the fifth to trail by a run, and later in the sixth led by a run with a two-run inning, leading 10-9. 
Riverside was able to put away the Wolves with a big six run seventh inning to lead 16-9, but IKM-Manning had one final push. They were able to add three runs in the bottom of the seventh to get 12 runs, but it was still four shy of Riverside as the Bulldogs came away victorious by a score of 16-12. The loss dropped the Wolves to 2-9 overall on the season and 2-8 in the Western Iowa Conference. They return to the ballpark on Monday, June 20th as they take on LoMa on the road. 
IKM-Manning Stats
Jessica Christensen: 1-1, 3 RS, BB, HBP
Olivia Robinson: RS
Ella Richards: 2-3, RS, 2 RBI, BB; Pitching: 7 IP, 12 Hits, 16 RA, 3 ER, 2 BB, HB, 2 K, L
Emma Branning: 1-2, SB
Bailee Germer: 1-2, 2 SB
Lauren Greving: 2-3, 4 RS, 2B, 3 RBI, BB
Carlee Neil: RS, BB, HBP, SB
Brooke Booth: 1-3, 2B, 2 BB
Alexis Gruhn: 1-3, RS, BB, SB
Laura McCarville: RS, SB
Taylor Beckendorf: 2 RS, BB
Alikxa McGinn: RS, BB
Justine Koski: RS, SB
Team       1  2  3  4  5  6  7    Final
RIV           0  1  1  5  1  2  6  |   16
IKMM      2  3  4  0  0  0  3  |   12