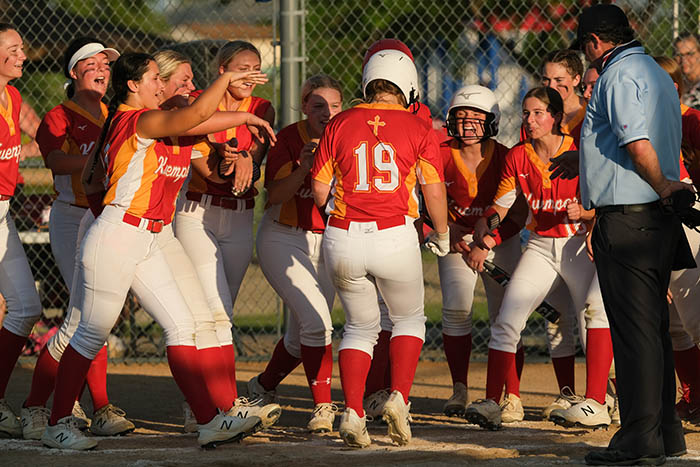 Softball Results Thursday, June 16th 
Harlan At Kuemper 
Kuemper 7
Harlan 3
Kuemper didn't wait to the 7th inning to get their offense going on Thursday. After scoring 3-runs in the 7th at Harlan earlier in June to win 3-2, the Knights scored 3 times in the first-two innings combined. They built a 7-0 lead heading into the 7th inning before pulling out the win. Kamryn Venner was outstanding in the circle and Hailey Ostrander and Jordan Schwabe had big nights at the plate. The Knights did a nice job taking advantage of Harlan mistakes early. They had 6 errors through the first 4 innings and Kuemper turned that into a 6-0 lead.
Kuemper Catholic Softball Vs Harlan Cyclones 6-16-22
Hailey Ostrander crushed a solo home run in the 4th inning, but it was her single to start the bottom 1st that got Kuemper off to their quick start. She scored on a triple by Jordan Schwabe after Melinda Schaefer had bunted her to 2nd base. Schwabe scored on a double by Kenadee Loew and Kuemper led 2-0 after the 1st. Alexis Diercksen singled to start the 2nd inning and scored later in the inning on an error. Kuemper added 2 more runs in the 3rd when Jordan Schwabe started the inning with a triple, scoring on an ground ball by Kenzie Schon. Schon would score later on a Kaylie Diercksen single. Hailey Ostrander crushed a line drive over the left field fence in the 4th to leadoff the inning. Meanwhile Kamryn Venner was keeping Harlan completely off balance. Madison Kjergaard opened the game with a triple but was thrown out at home to end the inning. Venner didn't allow another baserunner until the 4th when Ella Plagman tripled but again Venner and her defense got out of the inning with no damage. She allowed 2 hits with no walks and 8 strikeouts through 6 innings. Melinda Schaefer reached on a fielders choice in the 6th inning and scored on a Kenzie Schon single. Kuemper led 7-0 heading into the 7th. Harlan was able to string some hits together in the 7th, picking up 4 hits and getting help from 2 Kuemper errors. They scored 3-runs and had the bases loaded when Kamryn Venner came back in to pitch and induced a popup to Schaefer at 2nd base to end the game.
Hailey Ostrander finished with 3 hits and a home run and scored twice. Jordan Schwabe had a pair of triples and scored twice. Kenadee Loew doubled and drove in a run. Kenzie Schon had 2 RBI and scored a run. Kamryn Venner got the win, going 6 1/3 innings, striking out 6 and allowing on 2 hits.
Kuemper Stats
Hailey Ostrander 3-4, HR, RBI, 2 RS
Melinda Schaefer 1 RS
Jordan Schwabe 3-4, 2-3B, RBI, 2 RS
Kenzie Schon 1-4, 2 RBI, RS
Kenadee Loew 1-4, 2B, RBI
Kaylie Diercksen 1-3, RBI
Alexis Diercksen 1-3, RS
Kamryn Venner WP, 6 1/3 IP, 2 Hits, 8 K's
Chloe Venteicher 2/3 IP, 4 Hits, 3 RA, 3 ER, HBP
Box Score
Teams      1      2     3      4     5     6     7     Final
Harlan       0      0      0      0     0      0     3        3
Kuemper   2       1      2      1      0      1      x        7
Carroll At ADM 
ADM 8
Carroll 1
Carroll learned a lot about themselves on Thursday, playing right with the top team in the conference and number one ranked team in State in Class 4A. Carroll tied the game in the top 4th when Ava Gross hit another home run. Her solo shot tied the game at 1. ADM answered with a run in the bottom half, then took advantage of some Carroll miscues in the 5th to score 6 times. Carroll wasn't able to answer as the offense struggled to string hits together, finishing with 4 hits.
Ava Gross was perfect at the plate, picking up a pair of  hits in 2 plate appearances, highlighted by her home run. Makalei Kofron doubled and Brielle Hinners added a base hit.
The loss drops Carroll to 8-11 overall and 0-8 in the Raccoon River Conference. They host Nevada on Friday.
Carroll Stats
Parker Adams 1 HBP
Brielle Hinners 1-3
Ava Gross 2-2, HR, RBI, RS, BB
Makalei Kofron 1-3, 2B
Vanessa Ayala 1 BB
Camryn Schable LP, 4 1/3 IP, 10 Hits, 6 RA, 6 ER, 3 K's, 2 BB, HBP
Alyssa Brant 1 2/3 IP, 3 Hits, 2 RA, 1 ER
Box Score
Teams      1      2     3     4     5     6     7    Final
Carroll       0      0     0      1      0     0     0        1
ADM          0       0    1       1      6      0    x         8
Whiting At Glidden Ralston- Varsity Doubleheader 
Game 1 
Glidden Ralston 12
Whiting 1          (5 Innings)
Glidden Ralston started slow on Wednesday but bounced back nicely with 5-runs in the 1st inning on Thursday in the first game of a varsity doubleheader. The Wildcats bats never slowed down out hitting Whiting 10-4 and generated 12-runs with seven of them driven in. Three players finished with multiple hits. The Wildcats added a pair of runs in the 2nd, then put the game away with 4-runs in the 4th.
Kassidy Wenck had a team high 4 hits, along with 2 RBI and 2-runs scored. Vanessa Koehler and Brileigh Bock each had 2 hits with both driving in a run, Koehler scored twice and Bock scored once. Brenna Bowman added an RBI and scored a run. Vanessa Koehler picked up the win, going 5 inning, allowing 4 hits and no earned runs with 7 strikeouts.
Glidden Ralston Stats
Vanessa Koehler 2-4, RBI, 2 RS, SB- Pitching WP, 5 IP, 4 Hits, 1 RA, 0 ER, 7 K's, 2 BB, 2 HBP
Brileigh Bock 2-4, RBI, RS
Kassidy Wenck 4-4, 2 RBI, 2 RS, SB
Elizabeth Lloyd 1  HBP
Ashlynn Tigges 1-3, RS
Summer Toms 1 RBI, RS
Tiela Janssen 1 RBI, RS, HBP
Brenna Bowman 1-2, RBI, RS, BB
Addy Boell 2 RS, 3 BB
Grace Lensch 1 RS
Box Score
Teams      1      2     3     4     5    Final
Whiting     0      0     1      0      0        1
GR             5       2      1      4      x        12
Game 2
Glidden Ralston 6
Whiting 0
Vanessa Koehler was dominant in the circle and the defense was very good behind her as the Wildcats completed the doubleheader sweep. The offense finished with 11 hits but was only able to score 6-runs. After winning game one quickly, the Wildcats couldn't catch a break early and didn't score until the 5th inning, when they scored 3-runs. They added a run in the 6th and got 2 in the 7th. Koehler and the defense were the story in the win. She struck out 14 of the 21 outs and the defense took care of the other 7. Whiting was only able to muster 3 hits and didn't get walked or hit-by-pitch. That helped the Wildcats keep the game in reach  until the offense got going late.
Tiela Janssen and Ashlynn Tigges both had 3 hits for Glidden Ralston, with Janssen driving in a run and scoring once and Tigges scoring once. Vanessa Koehler doubled, had 2 RBI and scored a run. She also got the win, going 7 innings, with 3 hits and 14 strikeouts. Summer Toms picked up a pair of hits with an RBI and scoring a run.
The pair of wins improved the Wildcats to 7-7 overall and 5-5 in the Rolling Valley. They host Ar-We-Va on Friday.
Glidden Ralston Stats
Vanessa Koehler 1-4, 2B, 2 RBI, RS, 2 SB-  Pitching WP, 7 IP, 3 Hits, 14 K's
Brileigh Bock 1 BB, SB
Kassidy Wenck 1 RBI, RS, SB
Elizabeth Lloyd 1-3, BB
Ashlynn Tigges 3-4, RS
Summer Toms 2-3, RBI, RS, BB, SB
Tiela Janssen 3-3, RBI, RS, BB
Brenna Bowman 1-3, RS
Box Score
Teams      1      2     3     4     5     6     7    Final
GR              0      0      0     0     3     1       2        6
Whiting      0     0      0     0     0     0      0         0
Audubon At Underwood 
Underwood 2
Audubon 1
The Wheelers suffered a very tough loss on Thursday, playing very well, leading 1-0 heading into the 6th but they gave up a pair of runs in the 6th and fell 2-1. The Wheelers out hit Underwood 8-5, but could only muster 1-run.
Jordan Mulford singled with one out in the 5th, stole 2nd and moved to 3rd on an error. She scored the first run of the game on a single to centerfield by Mattie Nielsen. Nielsen moved to 2nd on a single but Jordan Porsch but the Wheelers couldn't sneak another run. Underwood scored a pair of runs in the 6th inning, starting the inning with a double, then a single tied the game at 1. A little later in the inning the Eagles moved a runner to 3rd an scored on a sac fly to right field. The Wheelers were down 2-1 heading to the 7th but Victoria Asmus singled to right field and they were in business with no outs. Jordan Mulford singled and Audubon had runners on 1st and 2nd with no outs. Hannah Thygesen grounded out for the 2nd out but moved the runners to 2nd and 3rd. The game ended on a hard line drive to centerfield.
Addie Hocker, Victoria Asmus and Jordan Mulford all had 2 hits with Hocker and Asmus doubling. Mattie Nielsen had an RBI and Jordan Mulford scored their lone run. Kali Irlmeier pitched 5 innings, allowing 4 hits and 2 earned runs with 3 strikeouts.
The Wheelers fall to 5-7 overall and 3-7 in the WIC. They head to Missouri Valley on Monday.
Audubon Stats
Jordan Porsch 1-4
Addie Hocker 2-3, 2B
Victoria Asmus 2-3, 2B
Jordan Mulford 2-3, RS, SB
Mattie Nielsen 1-2, RBI, BB
Kali Irlmeier 5 IP, 4 Hits, 2 RA, 2 ER, 3 K's, BB
Alexis Obermeier 1 IP, 1 Hit
Box Score
Teams      1      2     3     4     5     6     7    Final
Audubon    0      0     0     0     1       0     0       1
Underwood 0    0     0     0     0      2      x       2
IKM-Manning At Missouri Valley 
Missouri Valley 9
IKM-Manning 2
IKM-Manning battled hard, taking the lead in the top 1st inning, but they weren't able to hold on and they fall on the road. The Wolves were out hit 13-5 but Ella Richards only allowed 3 earned runs. Missouri Valley took the lead with 5-runs in the bottom 1st, adding a run in the 3rd and 2 in the 4th. IKM-Manning tacked on a run in the 6th.
Lauren Greving, Carlee Neil, Brooke Booth (double), Taylor Beckendorf and Hannah McKinney all had hits for the Wolves. Jessica Christensen and Emma Branning scored. Ella Richards took the loss, going the distance, allowing 9 hits and 3 earned runs.
The Wolves fall to 2-8 overall and 2-7 in the WIC. They host Riverside on Friday.
IKM-Manning Stats
Jessica Christensen 1 RS, BB, SB
Lauren Greving 1-3
Carlee Neil 1-3
Brooke Booth 1-3, 2B
Taylor Beckendorf 1-3,  2 SB
Hannah McKinney 1-3
Emma Branning 1 RS
Ella Richards LP, 7 IP, 9 Hits, 9 RA, 3 ER, 3 K's, 2 BB
Box Score
Teams      1      2     3     4     5     6     7    Final
IKM-M       1      0      0     0      0     1     0         2
MV             5      0        1     2     1       0     0        9
East Sac At SE Valley
SE Valley 13
East Sac 1      (4 Innings)
East Sac did a nice job putting the ball in play, out hitting SE Valley 8-7 but they weren't able to muster much offense, scoring a run in the 4th when Anna McCollough scored on a hit by Emersyn Mack. SE Valley took advantage of some Raider miscues and scored 5 times in the 1st inning, added a pair in the 2nd inning and 4 more in the 3rd. They ended the game with a pair of runs in the 4th.
Emersyn Mack and Jamie Pierce each had 2 hits, with Mack doubling and driving in a run. Gracie Snyder also doubled while Mary Bontrager, Kami Ross and Aleisha Thayer all picked up base hits. Anna McCollough scored their lone run.
The Raiders fall to 2-8 overall and 1-3 in the Twin Lakes. They host South Central Calhoun for Pink Out night on Friday.
East Sac Stats
Emersyn Mack 2-3, 2B, RBI
Mary Bontrager 1-2, HBP
Kami Ross 1-2
Aleisha Thayer 1-2
Jamie Pierce 2-2
Anna McCollough 1 RS
Gracie Snyder 1-2, 2B
Kami Ross and Maci Gustavson each pitched an 1 2/3 allowing a combined 7 hits and 13 runs, they struck out 1, walked 5 and hit one
Box Score
Teams      1      2     3     4      Final
ESC            0      0      0      1          1
SEV            5      2       4     2         13