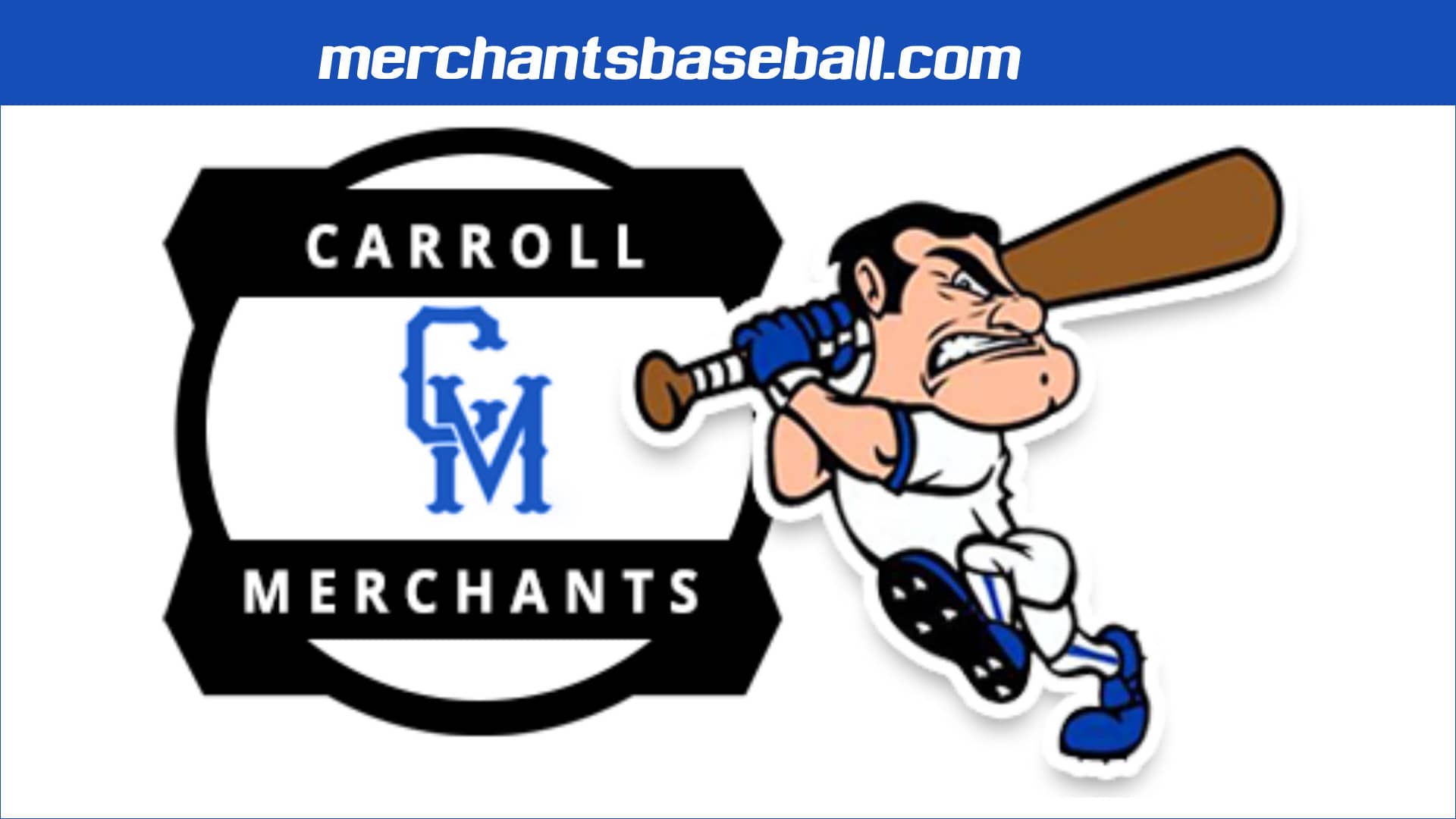 Carroll Merchants Results Monday, June 13th 
St Joe At Carroll Merchants
Game 1 
St Joe 12
Merchants 3
It was a rare tough night for the Merchants, struggling to get the offense going, didn't have a great night on the mound, getting out hit 9-5. They were able to power their way to 3-runs in the 3rd inning to take a brief lead but St Joe responded with 4-runs in the top 4th and 6 more in the 5th.
A pair of home runs gave Carroll the lead in the 3rd and the momentum. Parker Ingram homered, followed by a 2-run shot from Andrew Schroeder, scoring Trey Hansen. They left a runner at 3rd in the 2nd inning, a runner on in the 4th inning, 2 on in the 6th inning and a runner on in the 7th inning.
Merchants Stats
Andrew Schroeder 1-4, HR,  2 RBI, RS
Jordan Matthewson 1-3, BB, SB
Hunter Reid 1-3- Pitching 6 IP, 7 Hits, 5 RA, 3 ER, 5 K's, 4 BB, 3 HBP
Kyle Berg 1 BB
Parker Ingram 2-3, HR, RBI, RS
Trey Hansen 1 RS, BB- Pitching 1 IPO, 2 Hits, 7 RA, 3 ER, 7 BB, HBP
Box Score
Teams         1      2       3       4      5     6    7     Final
St Joe            1       0        1        4      6      0    0        12
Merchants   0       0       3        0       0     0    0          3
Game 2
St Joe 10
Merchants 3
Carroll suffered their first real losing streak of the season, dropping a doubleheader to St Joseph. The Merchants started this game better but struggled in the middle to late innings, allowing 9 of the 10 runs in the final three innings combined. Carroll grabbed a quick 2-1 with a run in the 4th inning but St Joseph responded with 4 in the top 5, then added 4 more in the 7th. The Merchants bats we better in game 2, picking up 6 hits, including their third home run of the night.
Kaleb Freeman tied the game at 1 with an RBI single in the 3rd inning, scoring Seth Christiansen. A solo home run from Garrett Freeman in the 4th put the Merchants on top. St Joe got a home run early in the 5th inning and finished with 4-runs in the inning and a 5-2 lead. A single by Andrew Schroeder led to Noah Buss scoring on the throw off a base hit by Schroeder for the Merchants final run.
Andrew Schroeder had a team high 3 hits, driving in a run. Garrett Freeman homered. Kaleb Freeman also had an RBI. Zach Nelson pitched 6 innings, allowing 9 hits and 7 earned runs.
The Merchants head to Chillicothe on Tuesday.
Merchants Stats 
Andrew Schroeder 3-4, RBI, SB
Kaleb Freeman 1-3, RBI
Garrett Freeman 1-3, HR, RBI
Jordan Matthewson 1 BB
Kyle Berg 1 BB
Seth Christiansen 1 RS, 1 BB
Noah Buss 1-2, 2B, RS, BB
Zach Nelson 6 IP, 9 Hits, 9 RA, 7 ER, 4 K's, 6 BB
Noah Dutler 1 IP, 1 RA, 0 ER, K, 2 BB
Box Score
Teams         1      2       3       4      5     6    7     Final
St Joe           0       1        0        0      4     1      4        10
Merchants   0      0        1        1        1      0     0         3