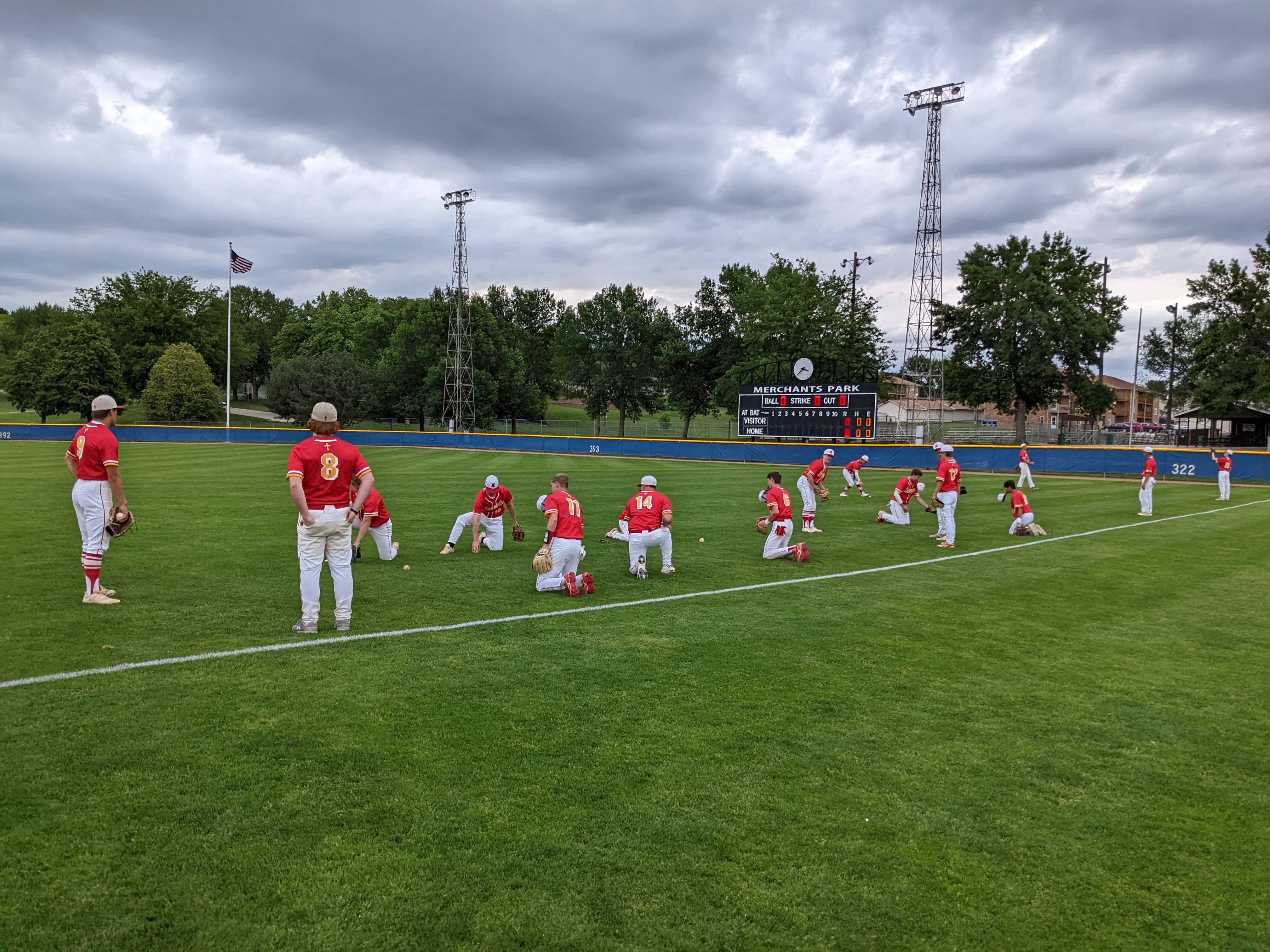 Baseball Results Thursday, June 9th 
Denison Schleswig At Kuemper
Kuemper 6
Denison Schleswig 4
Kuemper scored early and then held on as Denison Schleswig tried to rally in the 7th inning. The Knights pick up win number 9 and even their conference record at 2-2. A four run 2nd inning turned out to be the difference for the Knights who collected 9 hits and got a good pitching performance from Logan Sibenaller who left the game after 6 innings with a 6-1 lead. Both defenses played well, with each committing just 1 error and both teams making some nice plays.
Logan Sibenaller singled to start the bottom 1st and moved to 2nd on a Benicio Lujano single. Those two scored when Cal Wanninger singled, giving Kuemper a 2-0 lead. They added runs in the 4th getting five straight guys on base with 1 out. Wanninger walked and Koby Lampman reached on a fielders choice, in which Wanninger reached base safely at 2nd base. John Boes doubled, scoring Wanninger. That set things up for Max Irlmeier who singled, driving in Lampman and Boes. Cooper Pottebaum walked and Carter Putney drove in Mason Knerl, who came in to run for Irmeier with a Sac Fly. The Knights seemed to be cruising but after leaving the bases loaded in the 5th, they didn't score the rest of the game.
Denison Schleswig pushed a run across in the 5th inning. Jaxson Wessel singled and scored on a double by Trey Brotherton. They trailed 6-1 heading into the 7th inning and benefited from Kuemper struggles, scoring 3-runs on 2 hits, 3 walks and a hit-by-pitch. Jared Hausman was able to get out of trouble with a groundout to Benicio Lujano with the bases loaded and the tying run at 2nd base.
Benicio Lujano and Koby Lampman each had a pair of hits while Cal Wanninger and Max Irlmeier both drove in two runs. Mason Knerl and Tristan Janson both scored as courtesy runners. Logan Sibenaller earned the win, going 6 innings, allowing 6 hits with 7 strikeouts and 1 earned runs.
The Knights are 9-5 on the season and travel to Red Oak for a varsity doubleheader on Friday.
Kuemper Stats
Logan Sibenallaer 1-3, HBP, SB- Pitching WP, 6 IP, 6 Hits, 1 RA, 1 ER, 7 K's, BB, HBP
Benicio Lujano 2-4, RS
Trevor Rial 1-4
Cal Wanninger 1-3, 2 RBI, RS
Koby Lampman 2-4, RS
John Boes 1-3, 2B, RBI, RS
Max Irlmeier 1-2, 2 RBI, BB
Carter Putney 1 RBI, BB
Mason Knerl 1 RS
Tristan Janson 1 RS
Cooper Pottebaum 2, BB, SB
Jared Hausman 1 IP, 2 Hits, 3 RA, 3 ER, K, 3 BB
Box Score
Teams       1      2      3      4      5    6      7     Final
DS               0       0      0       0      1      0     3          4
Kuemper   2        0      4       0      0     0      x          6
Carroll At Ballard 
Ballard 12
Carroll 2                 (6 Innings)
It was a tough road trip for the Tigers, committing 4 errors, which allowed 6 unearned runs in a game that ended in the 6th inning. Ballard built an early 6-0 lead, thanks to 5-runs in the 2nd inning. The Tigers battled back in the 4th inning, scoring a pair of runs, but Ballard answered with two runs in their half of the 4th. They ended the game in the 6th, scoring two more runs.
The Tigers finished with 4 hits, scoring both of their runs in the 4th. Dreylen Schweitzer drove in Tate Schleisman on an fielders choice. Schweitzer stole 2nd base as part of a double steal where Cooper Pottebaum stole home. That cut the Carroll deficit to 10-2.
Cooper Ludwig had a team high 2 hits, with a double and a run scored. Sterling Rodman and Ryan North had Carroll's other two hits, Rodman went 3 2/3 innings, allowing 8 hits and 5 earned runs while striking out 2.
The Tigers fall to 1-10 overall and 0-6 in the Raccoon river Conference. They host ADM on Friday.
Carroll Stats
Dreylen Schweitzer 1 RBI, SB
Cooper Ludwig 2-3, 2B, RS, SB
Sterling Rodman 1-3- Pitching LP, 3 2/3 IP, 8 Hits, 5 ER, 2 K's, 2 BB, 2 HBP
Ryan North 1-2
Tate Schleisman 1 RS
Chase Ragaller 1 2/3 IP, 2 Hits, 1 ER, K, HBP
Evan Loew 1 1/3 IP, 1 Hit, K, BB
Box Score
Teams       1      2      3      4      5    6     Final
Carroll         0      0      0       2      0    0         2
Ballard        1       5       0      4      0     2        12
AHSTW At IKM-Manning
IKM-Manning 1
AHSTW 0
Max Nielsen was outstanding on the hill, striking out 15 batters and holding the Vikings to 1 hit, helping the Wolves win for the fifth time in the last six games. The Wolves scored their lone run in the 3rd inning when Brody Blom singled, stole 2nd base, took 3rd and home on passed balls. The Wolves loaded the bases in the 6th with 1 out but weren't able to add any insurance runs. AHSTW had one runner in scoring position all game, getting a runner on 3rd but Nielsen struck out the next batter to end the inning.
Brody Blom, Ben Ramsey, Treyton Barry, Tristan Barry and Reed Hinners all had base hits with Blom scoring the only run of the game. Max Nielsen went all 7 innings, allowing 1 hit with 15 strikeouts.
The Wolves improve to 5-5 overall and 4-4 in the Western Iowa Conference. They head to Underwood on Friday.
IKM-Manning Stats
Brody Blom 1-2, RS, BB, SB
Ben Ramsey 1-3
Treyton Barry 1-3, SB
Tristan Barry 1-1, BB
Reed Hinners 1-2, SB
Max Nielsen WP, 7 IP, 1 Hit, 15 K's, 2 BB, HBP
Box Score
Teams       1      2      3      4      5    6      7     Final
AHSTW    0        0       0      0      0     0     0         0
IKM-M     0        0       1       0      0      0     x         1
Tri Center At Audubon 
Tri Center 11
Audubon 1             (5 Innings)
Audubon had five hits but hurt themselves with a few mistakes and Tri Center was able to take advantage, winning the game in 5 innings. The Wheelers scored a run in the 4th inning, but trailed at that point 10-1. Tri Center scored again in the top 5ht and held the Wheelers to end the game.
Gavin Smith had 2 of the teams 5 hits with Evan Alt, Gavin Larsen and Braden Wessel all having 1 hit. Smith scored the Wheelers lone run. Aaron Olsen threw 2 innings in relief, allowing 1 hit and 2 earned runs with 4 walks.
The Wheelers fall to 5-6 overall and 3-4 in the Western Iowa Conference. They travel to AHSTW on Friday.
Audubon Stats
Evan Alt 1-3
Gavin Smith 2-3, RS, SB
Gavin Larsen 1-2, SB
Braden Wessel 1-2, SB
Aaron Olsen 2 IP, 1 Hit, 2 RA, 2 ER, 4 BB, HBP
Carson Meaike LP, 3 IP, 6 Hits, 9 RA, 5 ER, 2 K's, 4 BB, HBP
Box Score
Teams       1      2      3      4      5     Final
TC                2       3      0       5      1          11
Audubon     0       0     0       1      0           1
Boyer Valley At Glidden Ralston 
Boyer Valley 12
Glidden Ralston 5
The Wildcats got a good pitching performance from Mark Lensch and a big night at the plate by Tyler Brant but it wasn't enough to over come Boyer Valley. The Bulldogs were able to take advantage of mistakes by the Wildcats and 9 unearned runs. They scored several of those runs after innings would have been over, if an error wouldn't have extended the inning. The offense picked up 7 hits, generating 5-runs, highlighted by a home run by Tyler Brant. The young Wildcats continue to play with great energy and continue to improve.
Glidden Ralston scored in the bottom 1st to take a 1-0 lead but fell behind in the 2nd, with Boyer Valley scoring 3 times. Teh Bulldogs added a run in the 3rd and 4 more in the 5th to pull ahead 8-1. Glidden Ralston responded with a pair of runs in the bottom 5th and after Boyer Valley scored another 4-runs in the top 7th, The Wildcats scored two more in the bottom half.
Tyler Brant had two hits with a double and a 2-run home run. Jonathan Bergmeier, Jackson Sklenar, Ethan Olberding, Colby Wallace and Waylon Hein who doubled all had one hit. Mark Lensch pitched well, allowing 2 hits and 1 earned run in 4 innings of work. He struck out 4 and walked 6.
The loss drops them to 2-9 on the season, They head to Woodbine on Friday.
Glidden Ralston Stats
Jonathan Bergmeier 1-3, BB
Jackson Sklenar 1-2, 2 BB
John Whitver 1 RS, 2 BB, SB
Tyler Brant 2-3, 2B, 2-Run HR, 2 RBI, 2 RS, HBP
Ethan Olberding 1-3, RS, HBP, SB
Caden Wenck 1 RBI, BB
Colby Wallace 1-2
Andrew Bennett  1 RBI- Pitching 3 IP, 3 Hits, 8 RA, 2 ER, K, 2 BB
Waylon Hein 1-3, 2B, RBI, BB, SB
Blayce Nelson 1 RS
Mark Lensch 1 HBP- Pitching, 4 IP, 2 Hits, 4 RA, 1 ER, 4 K's, 6 BB
Box Score
Teams       1      2      3      4      5    6      7     Final
BV                0      3      1        0      4     0     4         12
GR                1      0     0        0      2      0     2          5
Ar-We-Va At East Sac 
Postponed to a later date