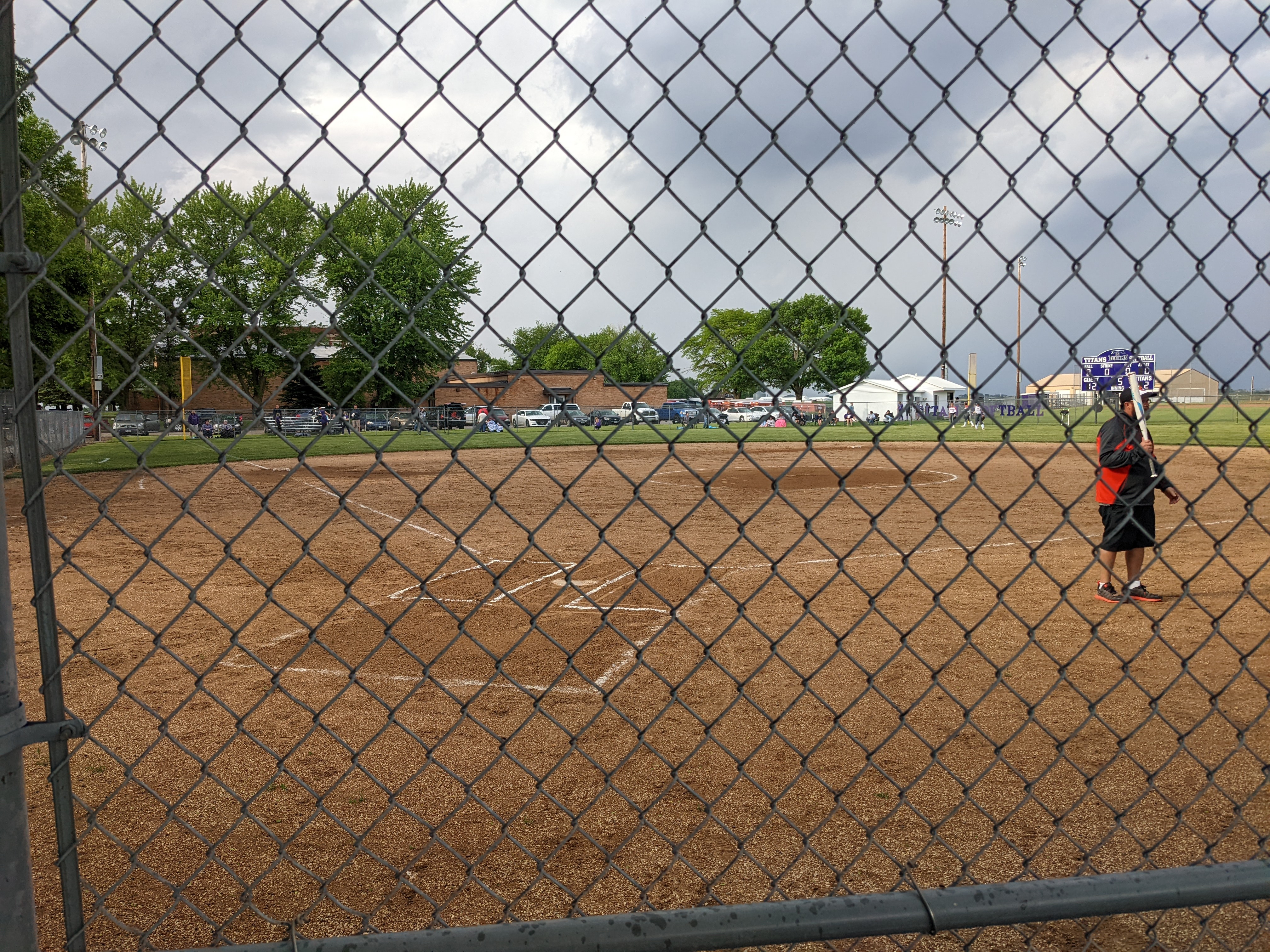 Softball Results Tuesday, June 7th 
Carroll At South Central Calhoun
Carroll 9
South Central Calhoun 1
Carroll built an early lead, finishing with 17 hits, while holding to the Titans to 7 hits in picking up their 3rd straight win. South Central Calhoun had a few chances early but left 3 runners on base in the 1st inning and 2 more in the second. They left 9 runners on in the game. Alyssa Brant and Camryn Schable both pitched well for Carroll with Brant going the first 4 inning for the win and Schable closing out the final 3 innings. Onna Haupert took the loss for South Central Calhoun but did a nice job of throwing strikes, only walking 2 in 6 innings.
Carroll scored 3 in the 1st inning with Brielle Hinners walking, Parker Adams singled and Hinners and Olivia Rowedder who ran for Adams both scored on a double by Camryn Schable. Schable scored on an error to put Carroll up 3-0. South Central Calhoun nearly answered in the bottom half. Gracie Hungate, Keira Hammen and Kylee Schleisman all singled but weren't able to scored as the Titans left the bases loaded. Ava Gross got the Tigers back on the board with a 2-out solo home run to left field. Brielle Hinners walked for the second time and scored on a base hit by Camryn Schable. South Central Calhoun put pressure on again in the bottom 2nd with Brenna McAlister singling and Emma Anderson being hit-by-pitch. The Titans would leave runners on 1st and 2nd as Alyssa Brant battled out of trouble. Carroll added a run in both the 3rd and 4th innings, then broke it open with a pair of runs in the 5th to lead 9-1. Averi Burke singled and stole 2nd base. She scored on a single by Brenna Goins who would score on a Titan error. South Central Calhoun scored their lone run in the 3rd when Keira Hammen was hit-by-pitch, moved to 3rd on a Kylee Schleisman single and scored on a ground out by Onna Haupert.
Camryn Schable and Vanessa Ayala both had 3 hits for Carroll with Schable driving in 3-runs and Ayala doubling and scoring. Ava Gross had a home run, finishing with a pair of  hits, Brielle Hinners had 2 hits, scored 3 times and walked twice and Averi Burke added a pair of hits. Alyssa Brant got the win, going 4 innings, allowing 5 hits and 1 earned run.
Kylee Schleiman led the Titans with 2 hits, while Olivia Toms, Gracie Hungate, Keira Hammen, Brenna McAlister and Evelyn Kramer all had base hits with Onna Haupert driving in Hammen for their lone run.
Carroll improved to 7-7 on the season and goes to Ballard on Thursday. South Central Calhoun falls to 0-7 and will head to Emmetsburg on Friday.
Carroll Stats
Ava Gross 2-4, HR, RBI, RS
Brielle Hinners 2-2, 3 RS, 2 BB, 2 SB
Parker Adams 1-3, RBI, RS, BB, SB
Camryn Schable 3-5, 2B, 3 RBI, RS- Pitching 3 IP, 3 Hits, K, BB
Vanessa Ayala 3-4, 2B, RBI, RS
Averi Burke 2-3, RS, SB
Emma Kuhlmann 1-3, 2B, RBI
Alyssa Brant 1-3, 3B, RBI- Pitching WP, 4 IP, 4 Hits, RA, 1 ER, 2 K's, 2 HBP
Brenna Goins 1-1, RBI, RS
Olivia Roweddeer 1 BB
Carly Menken 1-1
South Central Calhoun Stats
Emma Anderson 1 HBP
Olivia Toms 1-4
Gracie Hungate 1-4- Pitching 1 IP, 1 Hit, 2 BB, K
Keira Hammen 1-3, RS, HBP
Kylee Schleisman 2-2, BB
Onna Haupert 1 RBI- Pitching LP, 6 IP, 14 Hits, 9 RA, 7 ER, 2 K's, 2 BB
Brenna McAlister 1-3
Evelyn Kramer 1-3
Box Score
Teams       1      2      3     4     5     6     7    Final
Carroll        3      2      1       1       2      0    0        9
SCC             0      0     1        0      0     0     0       1
St Albert At Kuemper- Varsity Doubleheader
Game 1 
Kuemper 6
St Albert 1
Kuemper put the game away in the 6th inning, scoring 4 times to go ahead by 5. The Knights never trailed but couldn't shake loose from St Albert, trailed by 1 after Kuemper scored a pair of runs in the 3rd inning, only to see St Albert score in the top 4th and cut it to 2-1. Kenzie Schon started a 1-out run with a single in the 6th inning, Kenadee Loew singled next and Kaylie Diercksen keeps her hot bat going with a single to scored both runners. Kamryn Venner reached on an error and her and Diercksen scored on a single by Kaci Peter.
Kenzie Schon led the way with 2 hits while Kaylie Diercksen, Kaci Peter and Jordan Schwabe all drove in a pair of runs. Chloe Venteicher picked up the win, going all 7 innings, allowing 5 hits and no earned runs with 5 strikeouts.
Kuemper Stats
Hailey Ostrander 1-4, RS
Melinda Schaefer 1-3, RS
Jordan Schwabe 1-3, 2 RBI
Kenzie Schon 2-2, RS, BB
Kenadee Loew 1-3, RS
Kaylie Diercksen 1-3, 2 RBI, RS
Kamryn Venner 1 RS
Kaci Peter 1-3, 2 RBI
Chloe Venteicher WP, 7 IP, 5 Hits, 1 RA, 0 ER, 5 K's
Box Score
Teams      1      2      3      4     5     6      7    Final
St Albert    0      0     0        1      0       0     0       1
Kuemper   0      0     2        0      0       4     x       6
Game 2 
Kuemper 16
St Albert 0         (3 Innings)
Kuemper pounded out 1o hits and scored 16-runs with 16 RBI in sweeping the doubleheader, winning game two in 3 innings. Kuemper scored 12-runs in the 2nd inning to blow the game wide open. The Knights had 3 players finish with multi hit game and had 7 players get at least 1 hit.
Hailey Ostrander, Melinda Schaefer and Kaylie Diercksen all had 2 hits with Diercksen doubling and driving in a team high 5-runs. Kenadee Loew added 3 RBI and Ostrander and Schaefer both had 2 RBI while Kenzie Schon drove in a pair of runs and scored 3 times. Schaefer and Schwabe joined Schon with 3-runs scored.
The two wins improves Kuemper to 6-9 overall and 3-1 in the Hawkeye 10. The Knights host Denison Schleswig on Thursday.
Kuemper Stats
Hailey Ostrander 2-3, 2B, 2 RBI, 2 RS, SB
Melinda Schaefer 2-2, 2 RBI, 3 RS, SB
Jordan Schwabe 3 RS, HBP,BB
Kenzie Schon 1-2, 2 RBI, 3 RS, HBP
Kenadee Loew 1-2, 3 RBI, 2 RS, BB
Kaylie Diercksen 2-3, 2B, 5 RBI, RS
Ellie Sibbel 1 RBI, RS
Kamryn Venner 1-2- Pitching WP 3 IP, 4 K's, BB
Kaci Peter 1-2, RBI, RS
Box Score
Teams       1        2      3    Final
St Albert     0         0      0       0
Kuemper    4         12     x        16
Woodbine At Glidden Ralston 
Woodbine 22
Glidden Ralston 2          (5 Innings)
Glidden Ralston matched Woodbine with 8 hits but a bad top 5th inning  ended the Wildcats chances of coming back as they fall to 2-5 on the season. Woodbine scored in every inning and had built an 11-2 lead heading into the 5th, then added 11 more runs in the 5th. The Wildcats had 4 errors but also walked 11 batters and hit 4 more to help the Tigers keep their offense at the plate. Glidden Ralston scored in the 1st and 4th innings.
Kassidy Wenck and Addy Boell both had 2 hits and each had a double for the Wildcats. Tiela Janssen picked up a hit and scored as did Ashlynn Tigges. Elizabeth Lloyd had an RBI.
The Wildcats will be back in action at Coon Rapids Bayard on Wednesday. That game is scheduled to be broadcast on 93.7 KKRL.
Glidden Ralston Stats
Tiela Janssen 1-2, RS,  BB, SB
Kassidy Wenck 2-3, 2B
Elizabeth Lloyd 1-3, RBI
Ashlynn Tigges 1-3, RS
Summer Toms 1-3- Pitching 1 1/3 IP, 7 Hits, 11 RA, 2 ER, K, 5 BB, HBP
Addy Boell 2-2, 2B
Vanessa Koehler 1 BB, SB- Pitching 3 2/3 IP, 5 Hits, 11 RA, 7 ER, 4 K's, 6 BB, 3 HBP
Box Score
Teams      1     2     3     4    5    Final
Woodbine 2      2     4      3    11       22
GR              1     0      0      1     0         2
Audubon At IKM-Manning
The game was suspended in the 5th inning due to rain and will resume on June 23rd in Audubon with the Wheelers leading, 11-2.
Coon Rapids Bayard At CAM Anita
Game was suspended and will resume on June 27th at Coon Rapids Bayard.