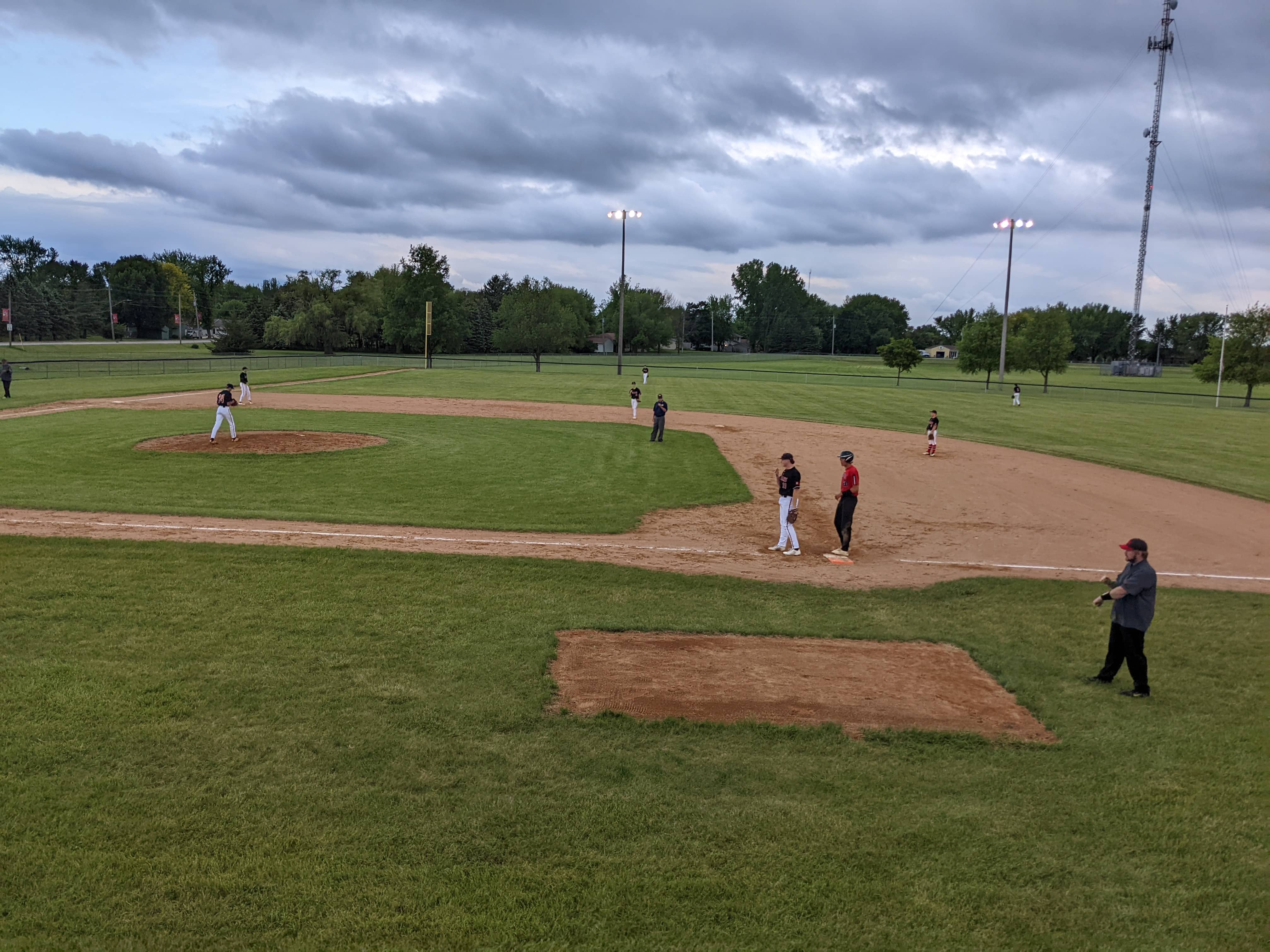 Baseball Results Monday, June 6th 
Kuemper At Harlan
Harlan 5
Kuemper 0
Kuemper threatened several times, leaving eight guys on base but weren't able to score. Both teams finished with 4 hits, but Harlan was able to take advantage of walks, errors and timely hitting to score 5-runs. The Knights stranded Logan Sibenaller at 3rd in the 1st inning, setting the tone for the game. Cooper Pottebaum was left at 2nd in the 2nd inning and 4th inning while Cal Wanninger was stranded at 3rd in the 4th. Benicio Lujano was stranded at 3rd in the 5th and Wanninger was at 2nd when the 5th inning came to an end.
Logan Sibenaller had 2 of the Knights 4 hits, Carter Putney doubled and Cal Wanninger singled for their other hits. Wanninger pitched 5 innings, allowing 3 hits, walking 6 and striking out 6 while allowing 2 earned runs.
Kuemper falls to 7-4 on the season. They will host St Albert for a varsity doubleheader on Tuesday with game 1 on 93.7 KKRL at 5:30.
Kuemper Stats
Logan Sibenalleer 2-4, SB
Cal Wanninger 1-2, HBP- Pitching LP, 5 IP, 3  Hits, 4 RA, 2 ER, 6 K's, 6 BB
Carter Putney 1-3, 2B
Cooper Pottebaum 2 BB
Benicio Lujano 1 BB
Koby Lampman 1 BB
Jared Hausman 1 IP, 1 Hit, 1 RA, 1 ER, BB
Box Score
Teams       1      2      3     4      5     6     7     Final
Kuemper   0       0       0      0     0     0     0        0
Harlan       0       1       1       2     0      1      x         5
Pocahontas Area At East Sac 
Pocahontas Area 10
East Sac 1
East Sac played their best game of the season and trailed 2-1 heading into the 4th inning. The game slipped away late as Pocahontas Area scored a run in the 6th, adding 4 more in the 7th. The Raiders had chances early, leaving the bases loaded in the 1st inning and 2 runners on in the 2nd inning. They would strand 10 runners in the game, also leaving a pair of runners in the 5th and 6th innings. They were able to throw strikes, cutting down on their walks, only walking 5 for the game. The defense was strong, with Luke Wright turning a nice double play in the 1st inning. Pocahontas Area had runners on 2nd and 3rd with 1 out. Cavin Henrickson popped up to Wright at 3rd would make the catch and tagged Dominic Aljets out at 3rd base.
Pocahontas Area scored a pair of runs on a 2-run home run in the top 1st, but East Sac answered in the bottom half. Aden Vondrak singled but was forced out at 2nd on a fielders choice by Karter Ludwig. Ludwig moved to 3rd when Weston Drost reached on an error, then scored on a base hit from Luke Wernimont. Drost would advance to 3rd and Wernimont moved to 2nd when Bradyn Burns walked but East Sac wasn't able to score a second run. In the 2nd inning Aden Vondrak reached on a fielders choice and Karter Ludwig reached on an error but they were stranded at 2nd and 3rd. Weston Drost and Preston Mauer singled in the 5th but were stranded at 2nd and 3rd and Luke Wright singled in the 6th but was stranded at 3rd.
Karter Ludwig finished with a pair of hits. Weston Drost, Preston Mauer, Luke Wright, Aden Vondrak and Luke Wernimont all had hits. Logan Schroeder came in to pitch in the 6th and after a intention walk loaded the bases, he got a pair of strikeouts to end the threat.
The Raiders fall to 0-5 on the season and will head to GTRA on Wednesday.
East Sac Stats
Karter Ludwig 2-4, RS- Pitching 2 2/3 IP, 9 Hits, 4 RA, 3 ER
Weston Drost 1-4- Pitching 2 2/3 IP, 4 Hits, 2 RA, 2 ER, K, 2 BB
Preston Mauer 1-4
Luke Wright 1-2, BB
Ryan Zimmerman 1 BB
Bradyn Burns 1 BB
Aden Vondrak 1-4
Luke Wernimont 1-4
Logan Schroeder 1 1/3 IP, 4 RA, 2 ER, 2 K's, 3 BB, HBP
Jack Gullett 1/3 IP,  BB, HBP, K
Box Score
Teams       1      2      3     4      5     6     7     Final
Pocy            2      0       0     3      0      1      4         10
East Sac     1        0      0     0     0      0     0           1
IKM-Manning At Treynor 
IKM-Manning 3
Treynor 1
Treyton Barry was outstanding on the hill, holding Treynor to 2 hits, and not allowing an earned run. His only walk was an intentional walk. The Wolves offense was held in check until the 7th when they scored all 3-runs to win their 4th straight. Treynor picked up an unearned run in the 2nd inning but that was all they could muster as Treyton Barry kept finding the outside corner, inducing ground ball outs or pop ups on the infield. He went all 7 innings, throwing just 65 pitches. The Wolves offense came to life in the 7th inning. Reed Hinners reached on an error, starting the rally. Brody Blom walked, after fighting off several tough pitches. Ben Ramsey bunted, moving the runners to 2nd and 3rd and reaching on an error. Max Nielsen singled, driving in 2, putting the Wolves up 2-1. A Cooper Perdew single gave them an insurance run, scoring Ramsey.
The Wolves finished with 5 hits, with Cooper Perdew leading the way with 2  hits, Max Nielsen, Treyton Barry and Tristan Barry all had a hit. Treyton Barry picked up the win, pitching all 7 innings, allowing 2 hits and no earned runs while striking out 2.
The Wolves improved to 5-4 overall and 3-3 in the Western Iowa Conference. They host Audubon on Tuesday.
IKM-Manning Stats
Brody Blom 1 RS, BB
Ben Ramsey 1 RS
Max Nielsen 1-2, 2 RBI, 2 BB
Cooper Perdew 2-3, RBI, BB
Treyton Barry 1-2, 2 HBP- Pitching WP, 7 IP, 2 Hits, 1 RA, 0 ER, 2 K's, BB
Lane Sams 1 BB
Tristan Barry 1-3
Reed Hinners 1 RS
Box Score
Teams       1      2      3     4      5     6     7     Final
IKM-M       0       0      0      0      0      0     3        3
Treynor     0       1        0     0       0      0     0       1
Ar-We-Va At West Harrison 
West Harrison 2
Ar-We-Va 1
The hard luck season continued for Ar-We-Va on Monday, as they continue to play very well, but fell to 0-7 with 5 of the 7 losses by 2-runs or less and 4 of those losses by 1-run. Their pitching continues to be outstanding and they were able to put the bat on the ball well against West Harrison who made really good plays defensively limiting the Rockets to 5 hits. Ar-We-Va scored a run in the 1st inning, then left a few runners on base including a runner on base in the 7th. West Harrison finished with 4 hits but used a two-run single in the 4th inning to take the lead for good.
Will Ragaller finished with 2 of the Rockets 5 hits and pitched 5 2/3 innings, allowing 4 hits and 1 earned run while striking out 8. He walked one and hit one. Cooper Kock went 1/3 of an inning, striking out the only batter he faced. Cooper doubled to score Ragaller in the 1st inning. Conner Kirsch and Timothy Dose both had hits for the Rockets.
Ar-We-Va sits 0-7 overall and will host Whiting on Wednesday.
Ar-We-Va Stats
Will Ragaller 2-3, RS, SB- Pitching 5 2/3 IP, 4 Hits, 2 RA, 1 ER, 8 K's, BB, HBP
Cooper Kock 1-2, 2B, RBI, BB- Pitching 1/3 IP, K
Conner Kirsch 1-3
Timothy Dose 1-3
Braeden Kirsch 1 BB
Wyatt Ragaller 1 BB
Box Score
Teams       1      2      3     4      5     6     7     Final
AWV           1       0      0      0       0     0      0      1
WH             0      0     0       2        0     0      0      2
Audubon At LoMa 
Audubon 12
LoMa 1         (5 Innings)
Audubon out hit LoMa 15-3 as they put it all together on Monday. All nine starters collected at least a hit in the game, with four extra base hits. Audubon had 11 RBI on the 15-runs scored. They scored in every inning but the 2nd and began to pull away midway through the game. The Wheelers led 1-0 going into the 3rd inning, scoring 3 in the 3rd, 2 more in the 4th, then putting the game away with 6 in the 5th inning. Carson Meaike was really good on the hill, going all 5 innings, giving up 3 hits and 1 earned runs with 5 strikeouts.
Gavin Larsen led the offensive output with 3 hits, including a double and scoring twice. Aaron Olsen, Evan Alt, Gavin Smith and Cooper Nielsen all had 2 hits. Smith doubled and scored three times while Nielsen had a pair of doubles with an RBI, Alt scored twice. Jay Remsburg drove in 3-runs and Brody Schultes had a pair of RBI.
The Wheelers improved to 4-5 overall and 2-3 in the Western Iowa Conference. They travel to IKM-Manning on Tuesday.
Audubon Stats
Aaron Olsen 2-5, RBI, RS
Evan Alt 2-5, 2 RS, SB
Gavin Smith 2-3, 2B, RBI, 3 RS, HBP
Gavin Larsen 3-4, 2B, RBI, 2 RS
Braden Wessel 1-3, RBI, 2 RS, BB
Cooper Nielsen 2-3, 2-2B, RBI, BB
Jay Remsburg 1-2, 3 RBI, RS, 2 BB, SB
Alex Foran 1-2, RBI, BB, HBP
Brody Schultes 1-3, 2 RBI, BB
Brody Beane 1 RS
Carson Meaike WP, 5 IP, 3 Hits, 1 RA, 1 ER, 5 K's, BB
Box Score
Teams       1      2      3     4      5    Final
Audubon    1      0       3       2      6        12
LoMa          0      0      0       0      1          1
South Central Calhoun At Manson NW Webster 
Manson NW Webster 9
South Central Calhoun 3
The Titans out hit the Cougars 8 to 4 but allowed 6 unearned runs as they fall on the road Monday. They had five different players have a  hit with two players finishing with multiple hits. The Titans hurt themselves with some defensive miscues and walking 10 batters and hitting one more, putting extra runners on base for the Cougars. Manson NW Webster scored 4 times in the 2nd inning and never trailed. South Central Calhoun pulled within 4-1 in the 3rd but the Cougars responded with a run in the bottom half, then scored a pair of runs in the 5th and 6th innings.
Caleb Juhl finished with 3 hits and stole 3 bases, Brock Nattress had a pair of hits and scored a run. Charlie Nattress and Kaden Dorman drove in a run apiece.
The loss drops the Titans to 2-4 on the season and 1-2 in the Twin Lakes Conference. They host West Bend Mallard on Wednesday.
South Central Calhoun Stats
Kaden Dorman 1-4, RBI, RS, SB
Andrew Anderson 1-3, BB, SB – Pitching 2 IP, 1 Hit, 4 RA, 2 ER, 5 K's, 3 BB
Brock Nattress 2-4, RS, BB, 2 SB
Charlie Nattress 1-3, RBI, 2 SB
Caleb Juhl 3-3, RS, 3 SB
Cody Thompson 1 BB- Pitching 3 2/3 IP, 2 Hits, 5 RA, 1 ER, 6 K's, 7 BB, HBP
Carson Shaver 1/3 IP
Box Score
Teams       1      2      3     4      5     6     7     Final
SCC             0       0      1      0       0     1      1          3
MNW          0       4     1       0      2      2      0         9