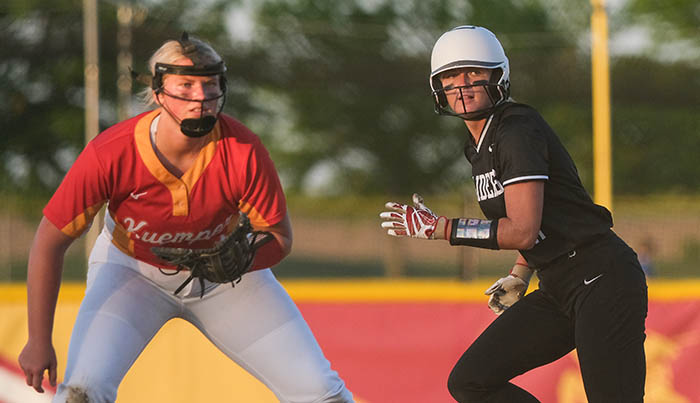 Softball Results Friday, May 27th 
East Sac At Kuemper
Kuemper 4
East Sac 0
Kuemper won a pitching duel on Friday night as the Knights got a great effort from Chloe Venteicher and Kamryn Venner and East Sac got a very good start from Maci Gustavson. It was one inning that helped Kuemper pull out a hard fought win, with some breathing room. The Knights scored in the 1st inning, before opening it up in the 3rd with a little help from the Raiders. The teams combined for 8 hits, with Kuemper outhitting East Sac 5-3. The big shot was a solo home run by Kennadee Loew to lead off the 4th. The Knights defense was very good, committing no errors and holding the Raiders to only one runner past 2nd base.
Hailey Ostrander singled to open the bottom of the 1st and scored, thanks to a wild pitch and passed ball. That came after Melinda Schaefer moved her to 2nd with a sac bunt. Kuemper added a pair of runs in the 3rd after an error allowed them to have runners on 1st and 2nd with only 1 out. Kuemper took advantage, scoring on a double steal and a wild pitch. Kenadee Loew led off the 4th for Kuemper with a home run to finish the scoring.
East Sac threatened in the 7th, Meredith Brown singled with one out and Aleisha Thayer singled to give the Raiders runners on the corners with 2 outs but Kamryn Venner was able to get out of trouble for the Knights.
Hailey Ostrander, Jordan Schwabe, Kamryn Venner and Alexis Diercksen joined Loew with base hits for the Knights while Chloe Venteicher went 5 innings, allowing no runs on 1 hit with 5 strikeouts. Venner pitched the last 2 innings, allowing 2 hits while striking out 5.
Emersyn Mack, Meredith Brown and Aleisha Thayer all had hits for East Sac and Maci Gustavson took the loss but went 6 innings, allowing 5 hits and 4 runs with  2 earned, she struck out 8.
The Knights takes on Carroll in game one of the Ogden Tournament on Saturday. East Sac hosts Emmetsburg on Wednesday.
Kuemper Stats
Hailey Ostrander 1-3, 2 RS, SB
Melinda Schaefer 1 BB
Jordan Schwabe 1-3
Kenadee Loew 1-3, HR, RBI, RS
Kamryn Venner 1-3- Pitching 2 IP, 2 Hits, 5 K's
Kaci Peter 1 BB, SB
Alexis Diercksen 1-2, RS
Chloe Venteicher WP, 5 IP, 1 Hit, 5 K's
East Sac Stats
Emersyn Mack 1-3
Meredith Brown 1-3
Aleisha Thayer 1-3
Maci Gustavson LP, 6 IP, 5 Hits, 8 K's, 2 BB
Box Score
Teams          1      2     3     4     5    6     7    Final
East Sac         0      0     0      0    0     0     0       0
Kuemper      1        0     2      1      0     0     x       4
Glidden Ralston At Ar-We-Va 
Glidden Ralston 8
Ar-We-Va 1
Glidden Ralston got a great defensive effort and terrific start in the circle from Vanessa Koehler as they picked up their first win of the season. Ar-We-Va struggled on offense and the young team dropped their second game to start the season. The Wildcats out hit Ar-We-Va 11-2 and scored in five of the seven innings. The Wildcats scored two runs in the 2nd, 4th and 6th innings, blowing the game open with a 2-run 6th, making it 7-1. Ar-We-Va scored a run in the 3rd but Glidden Ralston answered with a pair in the 4th.
Vanessa Koehler got the win for Glidden Ralston , allowing 1 unearned run to go with 10 strikeouts. Elizabeth Lloyd and Kassidy Wenck both had 3 hits for the Wildcats with Lloyd hitting a triple, driving in 2 runs, Wenck doubled and had an RBI and scored a run. Ashlynn Tigges picked up a pair of hits and Briliegh Bock and Grace Lensch both scored twice.
Sophie Jackson and Trista Reis each had a hit for the Rockets and Karime Sanchez scored their lone run.
The Wildcats are 1-1 overall and host West Harrison on Tuesday. Ar-We-Va falls to 0-2 and will host Coon Rapids Bayard on Tuesday.
Glidden Ralston Stats
Vanessa Koehler 1-5, SB- Pitching WP, 7 IP, 3 Hits, 1 RA, 0 ER, 10 K's, 6 BB, HBP
Tiela Janssen 1-4, RS
Ashlynn Tigges 2-3, RS, BB
Elizabeth Lloyd 3-4, 3B, 2 RBI,
Brileigh Bock 2 RS, 2 BB
Kassidy Wenck 3-3, 2B, RBI, RS, BB, SB
Brenna Bowman 1-3, RBI, RS, BB
Addy Boell 1 RBI, BB
BreAnn Hartwigsen 1 RBI
Grace Lensch 2 RS
Ar-We-Va Stats
Jamie Hausman 1 RBI, BB, HBP
Maggie Ragaller 1 BB, SB
Sophie Jackson 1-3
Delaney Schurke 1 BB
Amber Ragaller 1 BB- Pitching 7 IP, 11 Hits, 8 RA, 7 ER, 5 BB, 5 K's
Jazmine Molina 2 BB
Karime Sanchez 1 RS
Trista Reis 1-3
Box Score
Teams     1     2    3     4    5     6    7    Final
GR              0     2    0     2     1      2    1         8
AWV           0    0     1     0    0     0     0        1
Audubon At Treynor 
Treynor 4
Audubon 3
Audubon out hit Treynor 7 to 5 but three unearned runs hindered their chances of picking up a big road win on Friday. The Wheelers took a 2-1 lead in the 4th inning, then extended it to 3-1 in the 5th but Treynor scored three times in the bottom 5th and Audubon wasn't able to recover.
Audubon fell down 1-0 in the 2nd when Treynor started the inning with back to back singles.  A groundout put the Cardinals up 1-0 but Audubon would answer. Mattie Nielsen walked with one out in the top 3rd, Jordan Porsch singled, driving in Nielsen who had stolen 2nd base. They grabbed their first lead of the game in the 4th. Addie Hocker reached on an error and scored on a pop up by Jordan Mulford. The lead grew to 3-1 in the 5th inning, Jordan Porsch singled and Hannah Thygesen who had walked came in to score.
Treynor caught a break and took advantage in the bottom 5th, after the Wheelers got the first two batters out, Treynor got back-to-back singles. An Audubon miscue scored a pair of runs to tie the score and put the lead run on 3rd. Treynor got a base hit and led 4-3. Audubon loaded the bases in the 6th with 2 outs and had the tying run on base in the 7th but didn't score.
The loss drops the Wheelers to 1-1 overall and 0-1 in the WIC. They host Underwood on Tuesday.
Audubon Stats
Hannah Thygesen 1 RS, 2 BB, SB
Jordan Porsch 2-4, 2 RBI
Addie Hocker 1-4, RS
Alexis Obermeier 1-4- Pitching LP, 6 IP, 5 Hits, 4 RA, 1 EER, 10 K's
Jordan Mulford 2-3, RBI, SB
Mattie Nielsen 1-2, RS, BB, 2 SB
Michelle Brooks 1 SB
Anna Larsen 1 SB
Box Score
Teams           1       2      3     4     5    6      7    Final
Audubon        0        0      1      1      1     0       0       3
Treynor           0       1       0     0      3    0        x       4
IKM-Manning At Tri Center
Tri Center 4
IKM-Manning 3
IKM-Manning took the lead in the 4th inning but couldn't hold on as they fall on the road. The Wolves scored three runs with only 1 hit as they were able to draw two walks and get hit-by-pitch three times. That helped them score three times in the 4th inning on their way to leading 3-2. Tri Center took the lead back in the bottom of the 5th and IKM-Manning didn't threaten again.
Hannah McKinney picked up the lone hit for the Wolves, with Emma Branning, Alikxa McGinn and McKinney all scoring. Ella Richards pitched well, going 6 innings, allowing 6 hits and 2 earned runs with 3 strikeouts.
The Wolves fall to 0-2 overall and 0-1 in the WIC. They host Missouri Valley on Tuesday.
IKM-Manning Stats
Jessica Christensen 1 BB
Hannah McKinney 1-1, RS, HBP
Emma Branning 1 RS
Alikxa McGinn 1 RS, SB
Alexis Gruhn 1 HBP
Carlee Neil 1 HBP
Brooke Booth 1 BB
Bailee Germer 1 SB
Ella Richards LP, 6 IP, 6 Hits, 4 RA, 2 ER, 3 K's, 2 BB
Box Score
Teams        1     2    3     4    5    6    7    Final
IKM-M         0    0     0     3     0    0    0       3
Tri Center     0   2      0    2     0     0     x      4
Coon Rapids Bayard At Boyer Valley
Coon Rapids Bayard 13
Boyer Valley 0
Coon Rapids Bayard was impressive in every aspect of the game on Friday, pounding out 16 hits, scoring 13 runs and scoring in five of the seven innings. Emma Hart was nearly untouchable in the circle, allowing 2 hits while striking out 13.  The defense was equally impressive, not having an error.  A four run 2nd inning gave the Crusaders some breathing room, though they didn't fully put the game away until scoring 5 times in the 7th.
Breeley Clayburg had a home run as part of her 2 hits, Emma Hart had a pair of doubles and finished with 3 hits along with going all 7 inning, giving up just 2  hits while striking out 13. Lacie Davis, Anna Hart, Malia Clayburg and Lydia Hofbauer all had 2 hits. Hofbauer and Anna Hart both had 2 RBI and Malia Clayburg scored 3 runs.
The Crusaders sit 1-1 on the season as they head to Ar-We-Va on Tuesday.
Coon Rapids Bayard Stat
Bridget Shirbroun 1-5, RBI, RS
Lacie Davis 2-5
Emma Hart 3-5, 2-2B, 2 RBI, 2 RS- Pitching WP, 7 IP, 2 Hits, 13 K's, HBP
Breeley Clayburg 2-4, HR, 2 RBI, 2 RS, HBP
Miranda McClellan 1-3, RS, BB, SB
Kadey Olson 1-4, RBI, RS, SB
Anna Hart 2-4, 2B, 2 RBI, 2 RS, BB
Malia Clayburg 2-4, RBI, 3 RS, SB
Lydia Hofbauer 2-4, 2 RBI, RS
Box Score
Teams        1     2    3     4    5    6    7    Final
CRB              0     4    2      0     1    1     5        13
BV                0      0    0     0      0   0    0        0
South Central Calhoun At Pocahontas Area
Pocahontas Area 13
South Central Calhoun 0                (3 Innings)
Emma Anderson picked up the lone hit for the Titans as she doubled. Pocahontas Area scored 11 times in the 1st inning and ended the game with 2 more in the 2nd, then holding the Titans scoreless in the top 3rd. Olivia Toms walked and stole a base for the Titans. The loss drops them to 0-2 on the season. The Titans will host GTRA on Wednesday.
South Central Calhoun Stats
Emma Anderson 1-2, 2B
Olivia Toms 1 BB, SB
Grace Hungate LP 2/3 IP, 2 Hits, 11 RA, 5 ER, 7 BB, HBP
Onna Haupert 1 1/3 IP, 4 Hits, 2 RA, 2 ER, BB
Box Score
Teams        1     2    3      Final
SCC              0     0    0         0
Pocy            11     2     x        13
ADM At Carroll 
ADM 13
Carroll 2                     (5 Innings)
Carroll slipped to 0-3 overall and in the Raccoon River Conference as they continue to play a tough schedule to start the season. The Tigers were held without a hit but were able to work 3 walks and scored a pair of runs off those three baserunners.
Ava Gross and Vanessa Ayala scored for Carroll and Ayala walked twice. Alyssa Brant took the loss in the circle, going 2 2/3 innings, giving up 7 hits and 8 earned runs.
Carroll heads to the Ogden Tournament on Saturday where they will open with Kuemper.
Carroll Stats
Ava Gross 1 RS, BB
Vanessa Ayala 1 RS, 2 BB
Camryn Schable 2 1/3 IP, 4 Hits, 4 RA, 4 ER, K, 3 BB, HBP
Alyssa Brant LP, 2 2/3 IP, 7 Hits,  9 RA, 8 ER, 3 K's, 3 BB