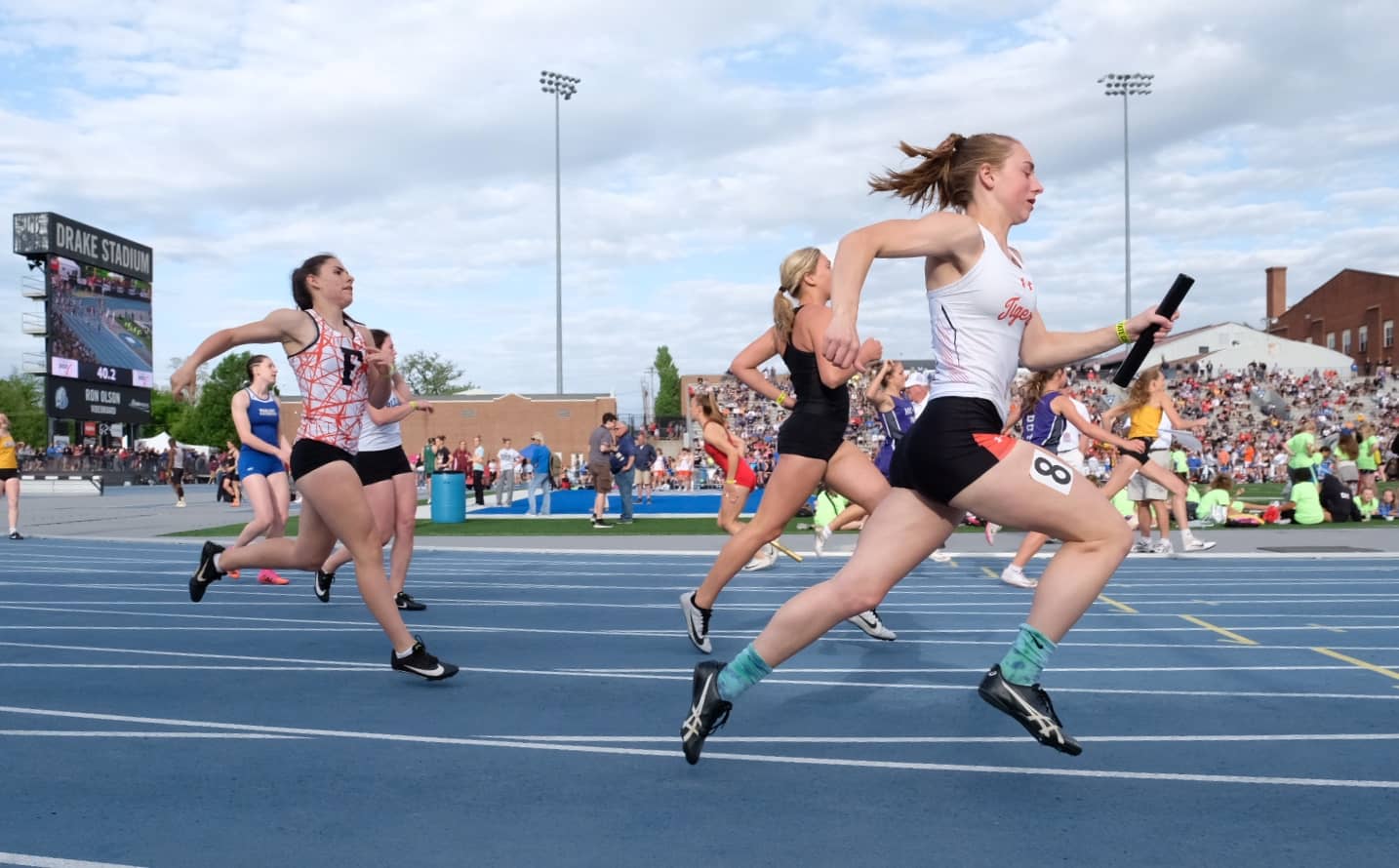 Friday State Track Results
Day two of the State Track meet was eventful for our area athletes, including some events making it to their respective finals on Saturday. 
The Carroll girls' distance medley relay team, composed of Marasyn Wittrock, Hannah Jorgensen, Katelyn Aden, and Marie Dea, were able to break the school record by two seconds, finishing in eighth place with a time of 4:17.74. The girls' 4×200 team, composed of Brenna Goins, Madison Tunning, Libby Perkins, and Marasyn Wittrock, finished in 21st with a final time of 1:51.44. Shay Sinnard had a solid day in the pit of the long jump as she finished third overall with a best jump of 17-09.00. The girls 4×100 relay team was the final event of the day for Carroll. Composed of Libby Perkins, Jorgensen, Tunning, and Sinnard, they finished in 18th place with a time of 51.55. Wittrock, Aden, Tunning, and Dea were the final runners of the day for the Tigers, finishing 18th in the 4×400 relay with a time of 4:14.48.
Kuemper's Ellie Sibbel competed in the discus event, but had all three of her attempts end in scratches. Evan Adams was the other individual for the Knights throwing in the discus event. He would finish 12th overall with a best throw of 137-07. Koby Lampman, Trevor Rial, Logan Sibenaller, and Michael Pottebaum were part of the 4×400 relay for the Knights as they finished 20th with a time of 3:32.34. 
For the Audubon Wheelers, the girls distance medley relay team, composed of Madison Steckler, Abigail Zaiger, Mattie Nielsen, and Hannah Thygesen were able to grab a fifth place finish with a time of 4:22.06. Makayla Schmidt replaced Thygesen in the 4X200 relay where the team finished 12th overall with a time of 1:50.47. Gavin Smith competed in two events and was able to qualify for the finals in one. Smith got fifth overall in the 110 hurdles with a time of 15.30, qualifying for Saturday's finals. Then, in the 400 hurdles, he finished sixth overall with a time of 55.66. The Audubon Girls 4X400 team, composed of  Zaiger, Nielsen, Steckler, and Thygesen, were able to qualify for Saturday's finals by five-hundredths of a second with a time of 4:13.93. 
Cooper Kock of Ar-We-Va had a busy morning as he competed in two events back to back. He started at the high jump where he tied for eighth with a best jump of 6-00.00. He then ran in the 110 hurdles where he qualified for Saturday's finals with a third place finish in a time of 15.00. Maggie Ragaller was also in two events herself, the 100 hurdles and 400 hurdles. In the 100 hurdles, she finished 16th overall with a time of 16.56 and she finished 18th overall with a time of 1:10.85. 
Vanessa Koehler of Glidden Ralston had a busy Friday morning with two events to close out her time at State Track. She started with the 100 hurdles where she finished 21st overall with a time of 17.11. She then ended her day with the high jump where she cleared 4-11.00 and finished 15th overall. 
The Coon Rapids Bayard 4X200 boys relay team was able to set a new personal record in the morning session. Composed of Easton Hays, Gabe Obert, Raiden Doty, and Omarion Floyd, they finished in seventh place overall with a time of 1:32.48. Those same runners competed in the 4X100 relay where they took home 13th place with a time of 44.76. Lance Clayburg competed in the discus event where all three attempts ended in scratches. 
IKM-Manning had one event on Friday, the girls 4X400 team. Composed of Taylor Beckendorf, Madelyn Snyder, Bianca Cadwell, and Lauren Irlbeck, they were able to finish 19th overall with a time of 4:19.58. 
Hannah Pudenz, Meredith Brown, Carly Fischer, and Brooke Jergens made up the East Sac 4×200 relay team where they finished 23rd overall with a time of 1:51.79. Those same runners were part of the 4×100 relay where they took 20th place with a time of 52.09. 
Jayden Soard represented the South Central Calhoun Titans well at Friday's discus event where he took home a 22nd place finish with a best throw of 115-02. 
2022 Iowa Class 2A-3A State Track and Field at Drake Stadium-5/20/22
Full Results
Girls Distance Medley
5th Audubon          4:22.06
Madison Steckler, Abigail Zaiger, Mattie Nielsen, Hannah Thygesen
Boys High Jump
8th Cooper Kock     Ar-We-Va      6-00.00
110 Hurdles
3rd Cooper Kock     Ar-We-Va      15.00   Qualified for Finals
5th Gavin Smith      Audubon      15.30   Qualified for Finals
Girls 100 Hurdles
16th Maggie Ragaller    Ar-We-Va                16.56
21st Vanessa Koehler    Glidden Ralston     17.11
Boys 4X200 Relay
7th Coon Rapids Bayard     1:32.48
Easton Hays, Gabe Obert, Raiden Doty, Omarion Floyd
Girls 4X200 Relay
12th Audubon        1:50.47
Makayla Schmidt, Abigail Zaiger, Madison Steckler, Mattie Nielsen
Boys 400 Hurdles
6th Gavin Smith      Audubon      55.66
Girls 400 Hurdles
18th Maggie Ragaller    Ar-We-Va    1:10.85
Boys Discus
DNF Lance Clayburg      Coon Rapids Bayard
Girls High Jump
15th Vanessa Koehler     Glidden Ralston     4-11.00
Boys 4X100 Relay
13th Coon Rapids Bayard    44.76
Easton Hays, Raiden Doty, Omarion Floyd, Gabe Obert
Girls 4X400 Relay
8th Audubon         4:13.93      Qualified for Finals
Abigail Zaiger, Mattie Nielsen, Madison Steckler, Hannah Thygesen
19th IKM-Manning     4:19.58
Taylor Beckendorf, Madelyn Snyder, Bianca Cadwell, Lauren Irlbeck
Girls Discus
DNF Ellie Sibbel       Kuemper
Girls Distance Medley
8th Carroll               4:17.74
Marasyn Wittrock, Hannah Jorgensen, Katelyn Aden, Marie Dea
Boys Discus
12th Evan Adams      Kuemper                            137-07
22nd Jayden Soard    South Central Calhoun   115-02
Girls Long Jump
3rd Shay Sinnard      Carroll      17-09.00
Girls 4X200 
21st Carroll         1:51.44
Brenna Goins, Madison Tunning, Libby Perkins, Marasyn Wittrock
23rd East Sac      1:51.79
Hannah Pudenz, Meredith Brown, Carly Fischer, Brooke Jergens
Girls 4×100
18th Carroll       51.55
Libby Perkins, Hannah Jorgensen, Madison Tunning, Shay Sinnard
20th East Sac      52.09
Hannah Pudenz, Meredith Brown, Carly Fischer, Brooke Jergens
Girls 4X400
18th Carroll         4:14.48
Marasyn Wittrock, Katelyn Aden, Madison Tunning, Marie Dea
Boys 4X400
20th Kuemper    3:32.34
Koby Lampman, Trevor Rial, Logan Sibenaller, Michael Pottebaum