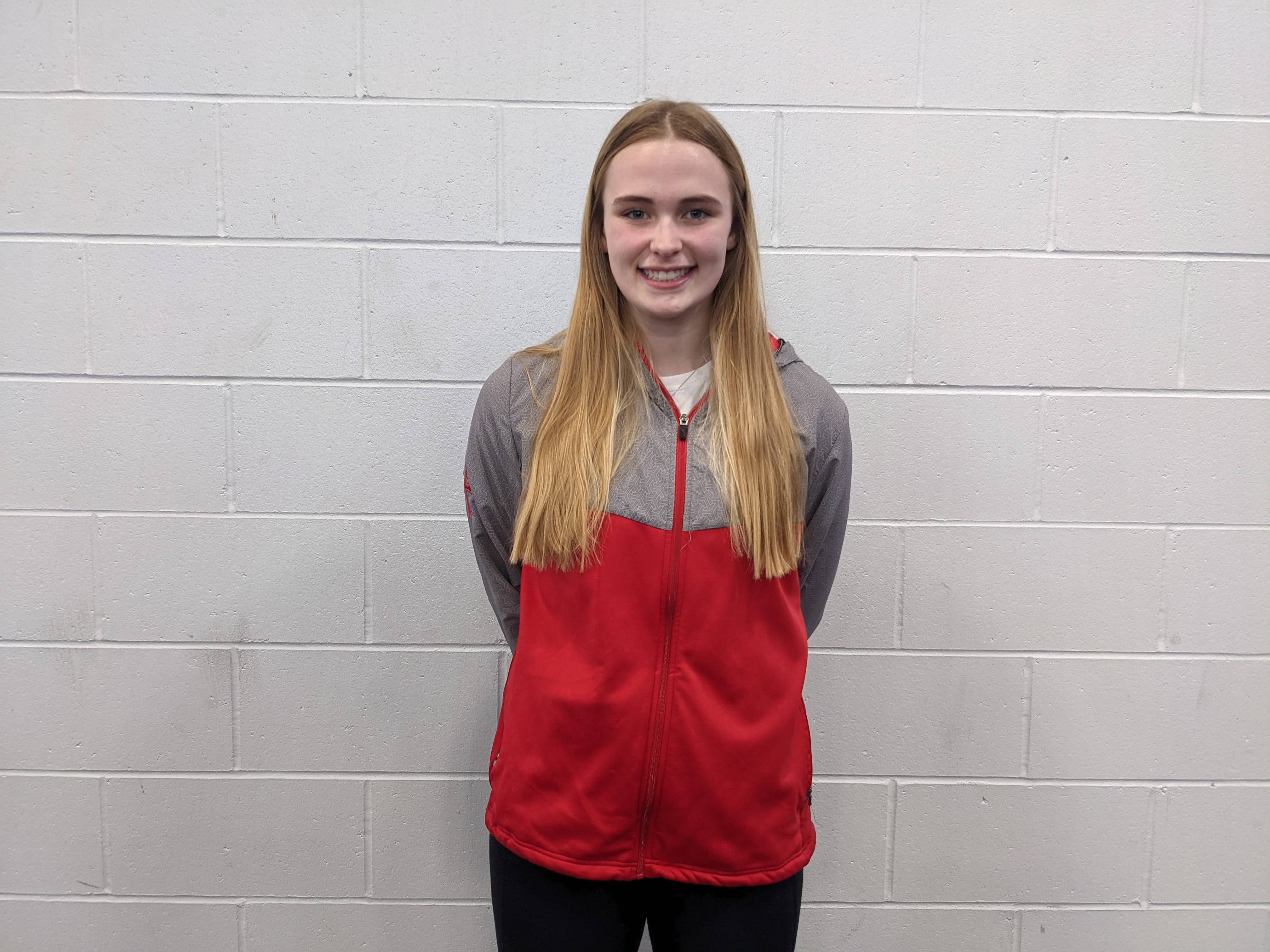 Kuemper Girls and Boys Track Results from State Qualifying Meet At Treynor 
Kuemper Girls qualified 3 individuals in 2 events and the boys qualified 2 individuals in 2 events for the State Track meet at a loaded state qualifying meet in Treynor on Thursday. The boys finished 7th with 54 points while the girls took 10th with 39 points.
It was a big night for Ellie Sibbel, the sophomore qualified in both the shot put and discus. Sibbel won the discus with a 105-11 and took 2nd place in the shot put with a 37-11.50. Kenzie Schon will join Sibbel at state, winning the shot put with a best throw of 39-09.
Evan Adams and Michael Pottebaum qualified for the boys with Adams finishing 2nd in the discus with a 135-01 and Pottebaum taking 2nd in the 400 meters in 51.35. The Knight still have a chance to send more events with Ben Gerken taking 3rd in the long jump and the 4×400 taking 3rd with Koby Lampman, Trevor Rial, Logan Sibenaller and Michael Pottebaum. Full qualifiers should be released by the State on Saturday.
Girls Team Standings
Van Meter 125
Treynor 107
Underwood 105
Clarinda 76
Greene County 53
Shenandoah 51
West Central Valley 50
Panorama 48
AC-GC 40
Kuemper 39
Red Oak 33
Missouri Valley 13
Boys Team Standings
Underwood 121
AC-GC 106
Clarinda 94
Treynor 78
Van Meter 77
Greene County 60
Kuemper 54
Red Oak 53
Shenandoah 44
West Central Valley 26
Missouri Valley 17
Panorama 10
Kuemper Results 
Girls Sprint Medley 
6th Kuemper                    2:03.76
Kerrigan Irlbeck, Alex Klein, Catherine Mayhall, Macy Blum
Boys Sprint Medley 
6th Kuemper                   1:38.91
Garrett Christensen, Logan Sibenaller, Tanner Higby, Michael Pottebaum
Boys 3200 Meters
7th Jacob Greving           11:55.66
Girls Shuttle Hurdle
8th Kuemper                1:17.58
Grace C Hoffman, Grace E Hoffman, Sada Gehling, Hanna Brincks
Boys Distance Medley 
8th Kuemper              4:10.81
Josh Boes, Kyle Sundrup, Ryan Sundrup, Patrick Hensel
Girls 4×200
6th Kuemper                1:54.85
Macy Blum, Kyra Irlbeck, Kerrigan Irlbeck, Catherine Mayhall
Boys 400 Meters
2nd Michael Pottebaum          51.35                             Qualified 
Boys 800 Meters
4th Michael Pottebaum          2:05.09
Boys 200 Meters
6th Logan Sibenaller               23.85
Boys 1600 Meters
5th Jacob Greving                   4:56.19
Girls 4×100
7th Kuemper               54.41
Macy Blum, Alex Klein, Kerrigan Irlbeck, Catherine Mayhall
Boys 4×400
3rd Kuemper              3:31.29
Koby Lampman, Trevor Rial, Logan Sibenaller, Michael Pottebaum
Girls Discus 
1st Ellie Sibbel                     105-11                          Qualified
7th Kenzie Schon                93-00
Girls Shot Put 
1st Kenzie Schon                 39-09                          Qualified 
2nd Ellie Sibbel                  37-11.50                       Qualified 
Boys Long Jump
3rd Ben Gerken                21-04.00
Boys Discus
2nd Evan Adams                 135-01                              Qualified 
5th Chris Mohr                    133-07
Boys Shot Put 
5th Evan Adams                44-07.50