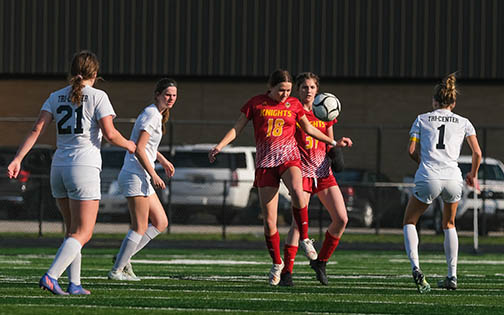 Girls Soccer Results Friday, May 6th
Tri Center At Kuemper 
Tri Center 5
Kuemper 0
Kuemper was able to get some looks as they continue to improve their passing, espicially the cross, but they weren't able to score as Tri Center pulls away for a 5-0 win at the Athletic Stadium. Tri Center built a 3-0 lead in the 1st half, then  added a pair of goals in the 2nd  half. Kenya Prescott and Catherine Mayhall each had 6 shots on goal as Kuemper finished with 18 shots on goal. It was a busy night on the defensive end with Ashlyn Badding finishing with 21 saves as Tri Center kept attacking against the Knight defense. Karly Baumhover added 2 shots on goal.
Kuemper Stats
Ashlyn Badding 21 Saves
Kenya Prescott 6 shots on goal
Kiley Trecker 1 shot on goal
Kora Thomsen 1 shot on goal
Catherine Mayhall 6 shots on goal
Karly Baumhover 2 shots on goal
Melinda Schaefer 1 shot on goal
Tristan Foley 1 shot on goal
Kuemper Catholic Girls Soccer Host Tri-Center 5-6-2022
East Sac At Atlantic 
Atlantic 6
East Sac 0
Atlantic was the aggressor on Friday at home. They scored 6:00 into the game, but the Raider defensive stiffened for most of the rest of the half but a 2-0 run in the final 10:00 of the half put Atlantic up 3-0 at half. East Sac started slowly in the 2nd half, with Atlantic scoring 3 goals in the first 15:00 of the half. The Raiders responded well, holding them scoreless the rest of the game. East Sac didn't have much offensive success, finishing with only 4 shots on goal. Kenna Meyer had 2 and Wilma Roneus and Cooper Herrig each had one. Makenna Steiger was busy in goal with 21 saves.
East Sac Stats
Kenna Meyer 2 shots on goal
Wilma Roneus 1 shot on goal
Cooper Herrig 1 shot on goal
Makenna Steiger 21 Saves