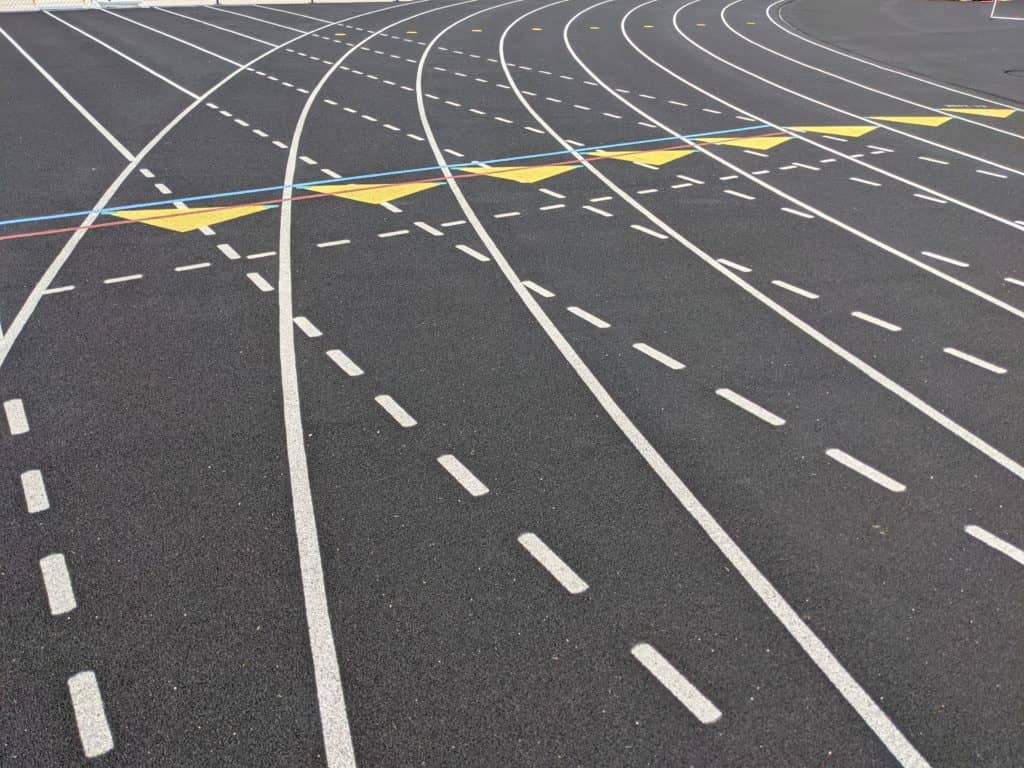 Girls Track Results Thursday, April 14th 
IKM-Manning At Tri Center Invitational 
IKM-Manning will be full strength for the first time this season next week. Thursday they continued to show they have good depth and are strong in distance races. The Wolves took third place in two individual events and four relays, helping them finish 5th place overall with 53 points. The Wolves were at their best in the longer races and the relays, showing their depth in talented runners. Treynor won the meet with 122.50 points followed by Underwood with 112 points. St Albert took 3rd with 91 points and Denison Schleswig was 4th with 63.50 points. Carroll was scheduled to compete but didn't attend the meet.
Emily Albertsen had the top finish for IKM-Manning, taking 2nd in the 3000 meters. Albertsen, Morgan Hanson and Julianna Stribe all ran well. Hanson took 3rd in the 1500 meters and Stribe was 3rd in the 800 meters. Stribe would team up with Bianca Cadwell, Hannah McKinney and Taylor Beckendorf to finish 3rd in the Distance Medley. Stribe, McKinney and Cadwell would team up again in the 4×800. They were joined by Emmie Ring, finishing 3rd. Bianca Cadwell continued her success in relays, teaming with Taylor Beckendorf, Madelyn Snyder and Lauren Irlbeck for 3rd in the 4×400. Amber Halbur, Madelyn Snyder, Abbagail Neilheisel and Bianca Cadwell teamed up to take 3rd in the 4×200.
IKM-Manning will compete again on Tuesday at Denison Schleswig.
IKM-Manning results are below.
Team Standings
Treynor 122.50
Underwood 112
St Albert 91
Denison Schleswig 63.50
IKM-Manning 53
Tri Center 45
Woodbine 42
Boyer Valley 22
Griswold 13
Missouri Valley 12
AHSTW 7
Heartland Christian 6
IKM-Manning Results 
800 Meters
3rd Julianna Stribe             2:50.87
1500 Meters
3rd Morgan Hanson                  5:50.00
4th Emily Albertsen                   5:56.94
3000 Meters
2nd Emily Albertsen                    12:21.39
4th Morgan Hanson                     12:27.11
400 Hurdles
5th Emmie Ring                          1:19.18
4×100
6th IKM-Manning      56.58
Amber Halbur, Lauren Irlbeck, Hannah McKinney, Abbagail Neilheisel
4×200
3rd IKM-Manning        2:00.61
Amber Halbur, Madelyn Snyder, Abbagail Neilheisel, Bianca Cadwell
4×400
3rd IKM-Manning         4:40.68
Taylor Beckendorf, Madelyn Snyder, Bianca Cadwell, Lauren Irlbeck
4×800
3rd IKM-Manning          11:22.94
Bianca Cadwell, Emmie Ring, Julianna Stribe, Hannah McKinney
Shuttle Hurdle 
5th IKM-Manning            1:18.48
Abbagail Neilheisel, Amber Halbur, Emmie Ring, Madelyn Snyder
Distance Medley 
3rd IKM-Manning              4:57.46
Bianca Cadwell, Hannah McKinney, Taylor Beckendorf, Julianna Stribe
Audubon At Glenwood 
Audubon picked up a meet in Glenwood on Thursday in the late morning, after their original meet was postponed due to weather concerns. The Wheelers tweaked their lineup with the change in venue, having a good showing in a field of 11 schools with the Wheelers, CAM Anita and LoMa as the only Class 1A schools. Audubon finished 8th overall with 37 points, picking up points in three individual events and six relays. Glenwood ran away with the title at their home meet with 193 points, Harlan was 2nd with 106 points and Lewis Central took 3rd with 94 points.
Hannah Thygesen and Stefi Beisswenger had the top individual finishes for the Wheelers. Thygesen was 4th in the 800 meters and Beisswenger was 3rd in the 3000 meters. Beisswenger added a 5th place finish in the 1500 meters. The Shuttle Hurdle relay team was the top finishing relay, taking 3rd with Madison Steckler, Madison Burr, Michelle Brooks and Makayla Schmidt. The Sprint Medley team of Mattie Nielsen, Abigail Zaiger, Madison Steckler and Hannah Thygesen finished 5th. Makayla Schmidt, Abigail Zaiger, Mattie Nielsen and Stefi Beisswenger teamed up for a 4th place in the Distance Medley.
Audubon next meet is Tuesday At CAM Anita meet at Atlantic.
Results for the Wheelers are below.
Team Standings 
Glenwood 193
Harlan 106
Lewis Central 94
Clarinda 84
LoMa 70
Council Bluffs Abraham Lincoln 64.50
Atlantic 59.50
Audubon 37
Creston 16
CAM Anita 14
Council Bluffs Thomas Jefferson 1
Audubon Results 
400 Meters
4th Hannah Thygesen        1:05.36
1500 Meters
5th Stefi Beisswenger           5:24.98
3000 Meters
4th Stefi Beisswenger           11:40.39
4×100
9th Audubon            58.27
Madison Burr, Makayla Schmidt, Michelle Brooks, Addie Hocker
4×200
7th Audubon            2:08.17
Makayla Schmidt, Jordan Porsch, Addie Hocker, Payton Gust
4×400
6th Audubon          4:39.10
Madison Steckler, Mattie Nielsen, Abigail Zaiger, Hannah Thygesen
Shuttle Hurdle
3rd Audubon          1:17.01
Madison Steckler, Madison Burr, Michelle Brooks, Makayla Schmidt
Sprint Medley
5th Audubon            1:59.76
Mattie Nielsen, Abigail Zaiger, Madison Steckler, Hannah Thygesen
Distance Medley
4th Audubon            4:54.37
Makayla Schmidt, Abigail Zaiger, Mattie Nielsen, Steif Beisswenger