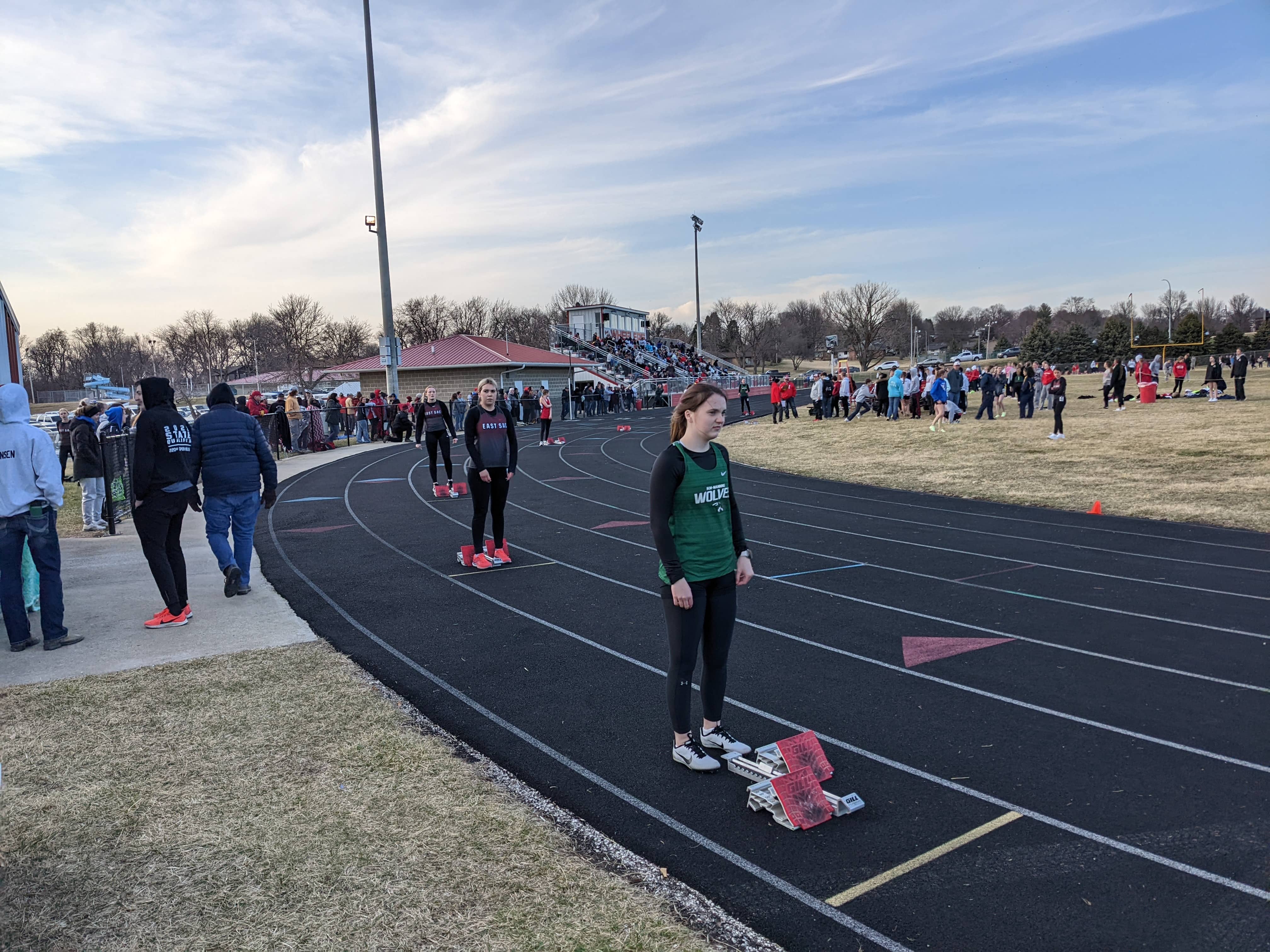 Girls Track Results Friday, April 1st 
Ar-We-Va, East Sac, IKM-Manning and Paton Churdan At Audubon Early Bird
The weather cooperated on Friday and five area schools competed in their first outdoor track meet of the season. Audubon looked solid, as anticipated, finishing in 5th place with 75 points. The Wheelers 13 individuals or relays finish in the top 8, scoring the team points. Their individual events led their surge, scoring with eight competitors to go with five relays. IKM-Manning added the meet to their schedule earlier this week, due to their first meet of the season being canceled. The Wolves finished 8th with 37 points. They scored with nine individual and six relays. East Sac added the meet on Wednesday due to their early season meets being canceled as well. The Raiders finished in a tie with CAM Anita for 9th place with 32 points. They scored had four individual competitors along with four relay events. Ar-We-Va brought five girls to the meet, finishing 14th with 10 points, scoring with two individuals and one relay. Paton Churdan didn't score but had several kids competing in their first ever varsity track meet and showed some nice times and distances in the field events.
Stefi Beisswenger was really good for Audubon winning both the 1500 meters and 3000 meters. Beisswenger dominated the 3000 meters, winning by nearly 37 seconds with a 12:08.80. The 1500 was much tighter with Beisswenger running a 5:37.80, holding off Emily Albertsen of IKM-Manning, who finished 2nd and Emma Schroeder of East Sac who finished 3rd. The Wheelers picked up the only win in a relay race for the area schools, winning the Distance Medley in 4:34.54 with Michelle Brooks, Abigail Zaiger, Mattie Nielsen and Hannah Thygesen. The Wheelers took 2nd place in the Sprint Medley with Mattie Nielsen, Madison Steckler, Abigail Zaiger and Hannah Thygesen. Steckler finished 3rd in the 100 Meters and Thygesen was 3rd in the 800 Meters. East Sac picked up a 3rd place in the 4×100 with Hannah Pudenz, Meredith Brown, Carly Fischer and Brooke Jergens. Maggie Ragaller had the top finish for Ar-We-Va, taking 4th in the 100 Hurdles. Paton Churdan had two relays finish 12th with Savannah McCloud, Kyann Fowler, Taryn Baugh and Bailey Anderson teaming up in the Sprint Medley and McCloud, Fowler, Kayla Sturm and Baugh teaming up for the 4×100.
Every event that scored points(Top 8) are listed for the local schools below.
Team Standings
Harlan 121

Treynor 116

Riverside 86

Underwood 85.50

Audubon 75

Greene County 55.50

Tri Center 45

IKM-Manning 37have 
East Sac 32 

CAM Anita 32

Heartland Christian 19

AHSTW 14

Missouri Valley 12

Ar-We-Va 10
Paton Churdan 0
Results for Ar-We-Va, Audubon, East Sac, IKM-Manning and Paton Churdan 
100 Meters
3rd Madison Steckler        Audubon    13.98
5th Brooke Jergens           East Sac 14.02
7th Hannah Pudenz          East Sac 14.18
200 Meters
4th Abigail Zaiger            Audubon  29.02
7th Mattie Nielsen           Audubon  29.38
800 Meters
3rd Hannah Thygesen    Audubon 2:36.42
4th Stefi Beisswenger      Audubon 2:40.66
7th Julianna Stribe          IKM-Manning 2:44.21
8th Emily Albertsen        IKM-Manning  2:46.25
100 Hurdles
4th Maggie Ragaller       Ar-We-Va 17.67
5th Madison Steckler     Audubon 18.21
7th Jamie Hausman        Ar-We-Va 18.50
8th Madelyn Snyder        IKM-Manning 18.72
1500 Meters
1st Stefi Beisswenger      Audubon 5:37.80
2nd Emily Albertsen       IKM-Manning 5:39.47
3rd Emma Schroeder     East Sac 5:43.00
7th Julianna Stribe         IKM-Manning 6:00.00
8th Raegan Garrison      IKM-Manning 6:05.00
3000 Meters
1st Stefi Beisswenger       Audubon 12:08.80
5th Amalie Kroyer           East Sac 13:36.46
400 Hurdles
8th Alikxa McGinn          IKM-Manning 1:25.06
High Jump
8th Taylor Beckendorf    IKM-Manning 4-04
Long Jump
8th Sofia Fernandez        IKM-Manning 14-01.00
4×100
3rd East Sac 53.54
Hannah Pudenz, Meredith Brown, Carly Fischer, Brooke Jergens
7th IKM-Manning 55.95
Amber Halbur, Sofia Fernandez, Abbagail Nieheisel, Bianca Cadwell
4×200
5th IKM-Manning 1:59.76
Alikxa McGinn, Hannah McKinney, Abbagail Neiheisel, Emmie Ring
4×400
4th Audubon 4:36.57
Abigail Zaiger, Mattie Nielsen, Stefi Beisswenger, Hannah Thygesen
7th East Sac 4:44.51
Jen Aschinger, Mary Bontrager, Meredith Brown, Amalie Kroyer
8th IKM-Manning 4:45.32
Taylor Beckendorf, Madelyn Snyder, Hannah McKinney, Bianca Cadwell
4×800
4th IKM-Manning 11:35.53
Emmie Ring, Kaitlynn Spoelstra, Raegan Garrison, Hannah McKinney
7th Audubon 13:02.34
Jordan Porsch, Kerrigan Larsen, Emily Foran, Alissa Testroet
Shuttle Hurdle 
5th IKM-Manning 1:19.46
Abbagail Neiheisel, Amber Halbur, Emmie Ring, Madelyn Snyder
6th Ar-We-Va 1:21.17
Maggie Ragaller, Amber Ragaller, Liz Brunner, Jamie Hausman
7th Audubon 1:21.63
Madison Steckler, Madison Burr, Michelle Brooks, Makayla Schmidt
Sprint Medley 
2nd Audubon 1:57.66
Mattie Nielsen, Madison Steckler, Abigail Zaiger, Hannah Thygesen
6th East Sac 2:04.13
Hannah Pudenz, Brooke Jergens, Jen Aschinger, Emma Schroeder
Distance Medley 
1st Audubon 4:34.54
Michelle Brooks, Abigail Zaiger, Mattie Nielsen, Hannah Thygesen
4th East Sac 4:53.44
Jen Aschinger, Ashlyn Arbegast, Mary Bontrager, Emma Schroeder
6th IKM-Manning 4:58.36
Sofia Fernandez, Madelyn Snyder, Taylor Beckendorf, Bianca Cadwell