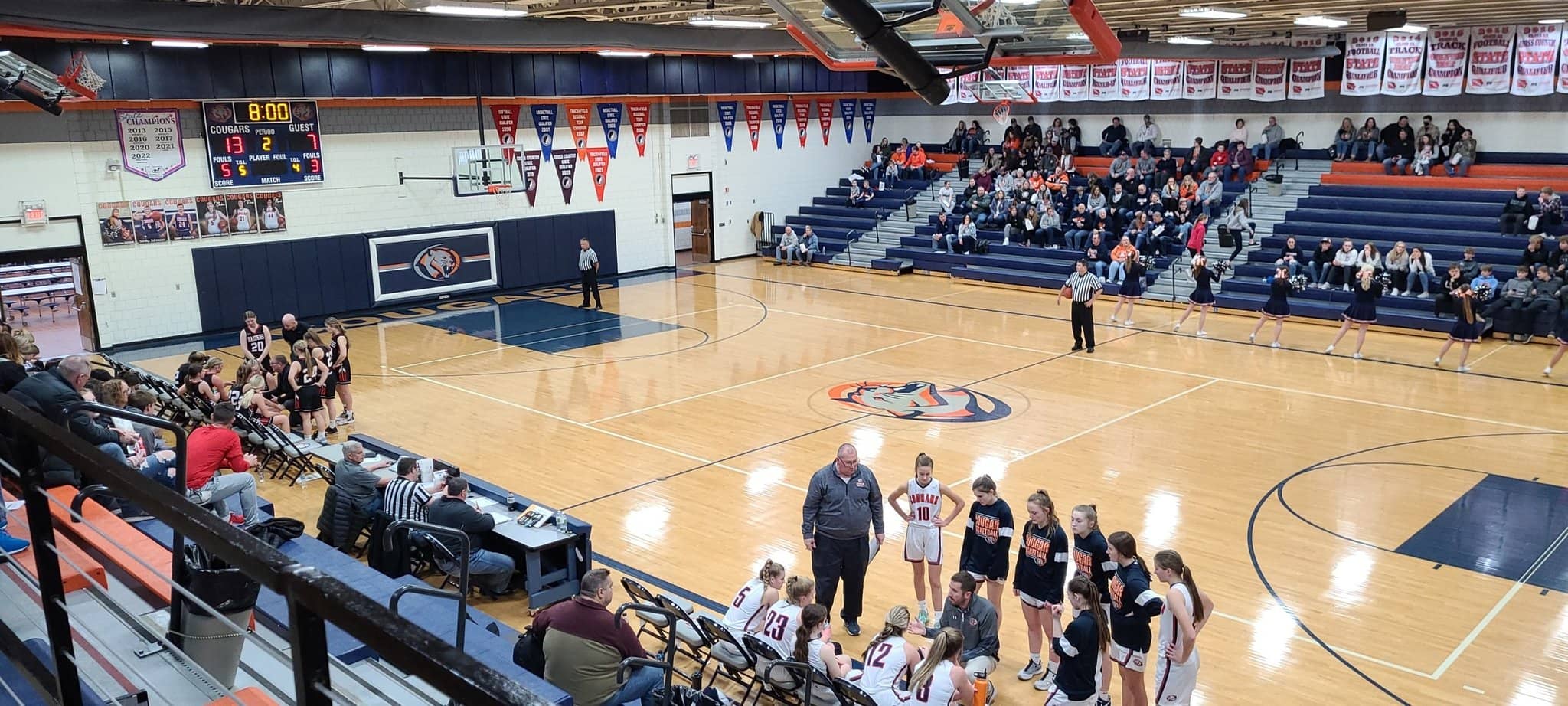 Girls Playoff Basketball Results for Saturday, February 12th
East Sac at Manson NW Webster
Manson NW Webster        39
East Sac                               27
The East Sac Raiders saw their season come to an end after being pressured all game long against Manson NW Webster's defense in Saturday's first round regional playoff game. 
The Cougars came out in a 3-2 zone defense and kept that all game long, forcing the Raiders to make pressured shots. While the Cougars got their offense off to a 13-0 scoring run, the Raiders closed out the quarter thanks to Makenna Steiger's two three pointers toward the end of the quarter. Manson NW Webster was able to stay ahead with three-three pointers from Mykaela Stuhrenberg, Paige Condon, and Chloe Peterson as they led 13-7 after the first quarter. East Sac started to pass the ball much more in the second quarter, in an attempt to draw the defense away and get some looks from the three-point line. Steiger was able to hit another three pointer and the East Sac defense was able to defend the basket a bit better at times. The Cougars had similar success passing and finding open lanes to the hoop with Stuhrenberg putting up four points in the quarter. The Cougars held on to a 23-14 lead at halftime. Steiger led the Raiders with nine points in the first half. 
It was much of the same in the second half with Manson NW Webster continuing to apply pressure with their 2-3 zone defense and full court pressure. East Sac started to draw fouls on the Cougars and went four of four from the free throw line but was only able to score five points outside of those free throws. Meredith Brown and Carly Fischer were both aggressive on their rebounds in this game, with Brown leading the team with six boards. The Raiders stayed close with the Cougars in the third but were still behind by a score of 33-23. Manson NW Webster did a lot of stalling in the majority of the fourth quarter and continued to force East Sac to turnover the ball. The Raiders were getting open looks from beyond the arc but could not drain many of them. With the Cougars running out a big portion of the game clock, they were able to come away with the win over East Sac 39-27. 
The Raiders season comes to an end with a final record of 6-16. 
East Sac Stats
Mary Bontrager: 4 Points, 1 Rebound, 2 Assists, 2 Steals, 1 Block
Meredith Brown: 9 Points, 9 Rebounds, 2 Assists, 3 Steals
Carly Fischer: 5 Rebounds, 5 Assists, 2 Steals
Aleisha Thayer: 1 Steal
Jen Aschinger: 1 Rebound, 1 Steal
Makenna Steiger: 12 Points, 1 Rebound, 1 Steal
Kendall Quirk: 2 Points, 5 Rebounds
Box Score
Teams         1      2     3     4    Final
ESC              7      7     9     4      27
MNWW    13   10   10     6      39
Southwest Valley at Kuemper
Kuemper                  73
Southwest Valley    30
The Kuemper Knights were dominant from start to finish as they quickly put away the Southwest Valley Timberwolves in Saturday's first round playoff game. 
The Knights came out with a full court pressure against the Timberwolves, and it worked very well. Kuemper's offense was on fire as they got up 18-2 in the first four minutes of the first quarter, and the Timberwolves had no answers. The Knights closed out the quarter going 11-1 and leading 29-3 entering the second quarter. Catherine Mayhall, Aubrey Heuton, and Frannie Glynn all led the team with eight points each. Mayhall shone even brighter in the second quarter as she led the charge for a Kuemper offense that put up 51 first half points. She ended the first half with 20 points and had plenty of back up with Heuton putting up 14 first half points, and Glynn having eight. The Knights led 51-14 going into the second half. 
The Knights continued to force the Timberwolves into a corner with their continued success on offense. Mayhall's night continued to get better as she put up another eight points in the third quarter to get Kuemper ahead 67-21 after three quarters of play. Her night would finish with 26 points, six rebounds, six assists, and a team leading eight steals. The Knights work in the first three quarters of the contest was more than enough for them to come away with the 73-30 victory over Southwest Valley. 
Heuton ended the game with 18 points, six rebounds, and two steals, and Frannie Glynn was a great support underneath the basket, putting up eight points, 12 rebounds, and two blocks. Akuet Malek had a solid night as well with seven rebounds and six blocks. The Knights will improve to 5-16 overall on the season and advance to Tuesday's Quarterfinals when they will travel to take on Treynor. 
Kuemper Stats
Catherine Mayhall: 26 Points, 6 Rebounds, 6 Assists, 8 Steals
Aubrey Heuton: 18 Points, 6 Rebounds, 2 Steals
Frannie Glynn: 8 Points, 12 Rebounds, 2 Blocks
Karsyn Overmohle: 7 Points, 3 Rebounds, 3 Assists, 2 Steals
Kora Thomsen: 4 Points, 4 Rebounds, 3 Assists, 3 Steals
Akuet Malek: 2 Points, 7 Rebounds, 6 Blocks
Lauren Boell: 2 Points, 3 Rebounds
Kaci Peter: 3 Points, 5 Rebounds
Megan Scott: 3 Points
Box Score
Teams        1     2     3     4    Final
SWV           3   11     7     9      30
KUE          29   22   16     6      73
Regular Season Girls Basketball Results for Saturday, February 12th
Gilbert at Carroll Girls
Gilbert   63
Carroll   46
The Carroll Tigers fell in the second half to the Gilbert Tigers in Saturday's regular season matchup. Gilbert was able to pull away in the third quarter over Carroll as they came away with a 63-46 victory. Carroll's Josie Ayala had a great game, putting up 15 points. 
A box score and stats were not provided to Carroll Broadcasting. This page will be updated with that information once it is received.