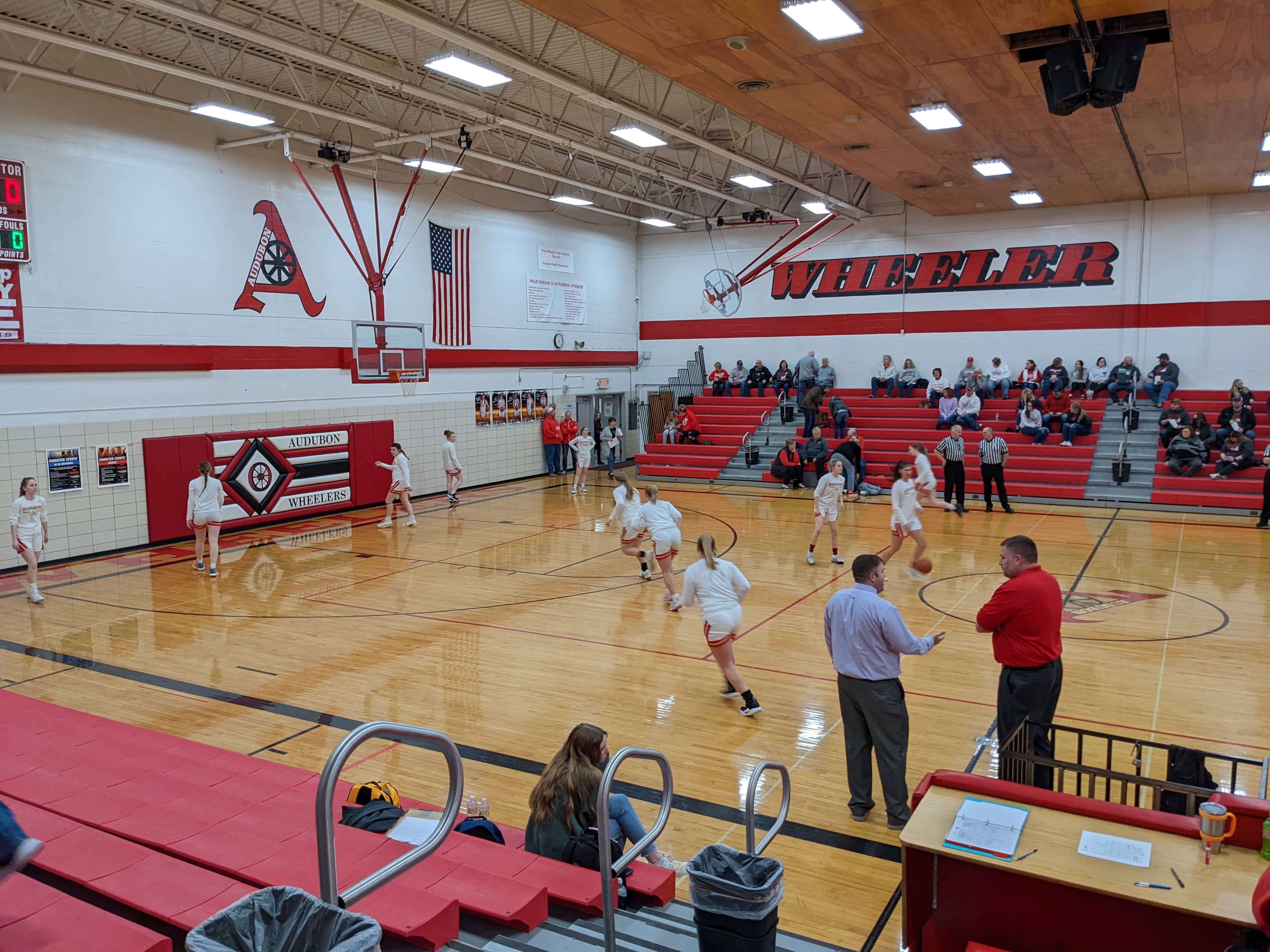 Girls Basketball Playoff Results Thursday, February 10th 
Riverside At Audubon- Class 1A Region 2 
Audubon 71
Riverside 26
Audubon wanted to step on the gas early tonight as they were trying to beat the same team for a third time this season. They were in overdrive from the opening tip as they built a 14-0 lead on their way to a 21-5 lead at the end of the 1st quarter and 42-12 lead at half. The Wheelers had a hard time keeping the momentum going in the 3rd but rebounded in the 4th quarter to cruise to a 45 point win. Aleah Hermansen and Jaci Christensen were sharp either scoring or assisting on all but 2 points in the 1st half.
Christensen scored the first 6 points of the game, with a pair of free throws and two buckets. Aleah Hermansen then scored 10 in a row, with a layup and back-to-back threes. Hermansen closed out her run with a pair of free throws. After a Hermansen assist to Christensen, she fed Sienna Albertsen for a three putting the Wheelers up 21-1. Albertsen's bucket was the first points scored by someone other than Christensen or Hermansen. The team was outstanding on the defensive end forcing Riverside to turn the ball over on their first-three possessions and four of their first five. Audubon turned those turnovers into points. They also did a great job pushing on the Bulldogs made and missed baskets.  The Wheelers were up 21-5 at the end of the 1st quarter, the Wheelers didn't slow up in the 2nd quarter, outscoring Riverside 21-7. Hermansen dished out 8 assists, with two of those going to Audrey Jensen on back-to-back threes, putting the Wheelers up 27-7. The lead grew to 35-9, on a pair of Hermansen free throws that gave up 1,500 for her career. Madison Steckler got into the passing game, hitting Kennedy Rohe for a bucket, extending the lead to 37-10. A Sienna Albertsen three made it 40-10 and Aleah Hermansen added a bucket, helping the Wheelers lead 42-12 at half.
Riverside answered the bell coming out of the locker room in the 3rd quarter. They executed better, scoring 12 of the first 19 points scored, pulling within 49-24. Hermansen ended the  quarter with a three and a pair of free throws, making it a 30 point game, heading to the 4th quarter. The highlight for Audubon in the 3rd was Jaci Christensen pulling down her 12 rebound of the game, giving her 900 for her career. Audubon put the game away early in the 4th, pushing the lead over 35 points, making it a continuous clock.
Aleah Hermansen led the Wheelers with 25 points to go with 10 rebounds and 8 assists. Jaci Christensen had a double-double with 24 points and 14 rebounds. Audrey Jensen and Sienna Albertsen shot the ball well, each hitting three-threes, scoring 9 points each.
The win improves the Wheelers to 15-8 overall as they advance into the 2nd round. They host Ankeny Christian on Tuesday after ACA beat Paton Churdan 48-38. Ankeny Christian is 13-9 on the season.
Audubon Stats
Audrey Jensen 9 Points, Rebound
Kate Tessman 2 Rebounds, 3 Assists, Steal
Aleah Hermansen 25 Points, 10 Rebounds, 8 Assists, 2 Steals
Cheyenne Barber 4 Rebounds
Jaci Christensen 24 Points, 14 Rebounds, Assist, 4 Steals
Sienna Albertsen 9 Points, 2 Rebounds, Assist
Madison Steckler 2 Assists
Alissa Testroet 1 Rebound
Kennedy Rohe 2 Points, 4 Rebounds
Rylee Brittian 2 Points, 2 Rebounds
Box Score
Teams        1     2    3    4     Final
Riverside     5     7    12    2        26
Audubon    21   21   12    17      71
Paton Churdan At Ankeny Christian- Class 1A Region 2
Ankeny Christian 48
Paton Churdan 38
Paton Churdan played their best game of the season and nearly picked up their first win of the season. The Rockets came out sharp, building a 17 point lead in the 1st half. They were up 9 after the 1st quarter, as the defense held the Eagles to 6 points. The Rockets lead was 13 at half. Their lack of depth, with only 6 girls, hurt them in the 2nd half and the Eagles were able to wear them down,  holding the Rockets to 8 points in the 2nd half, with 3 of those in the 3rd quarter. The Rockets clung to a 1 point lead heading into the 4th quarter.
Carmyn Paup wrapped up a terrific career with 23 points, 9 rebounds, 4 assists, 6 steals. Emma Stream added 6 points and 6 rebounds along with 3 assists. Haylee Duckett added 6 points.
The loss ends their season at 0-16-2.
Paton Churdan Stats
Haylee Duckett 6 Points, Rebound, Steal
Emma Stream 6 Points, 6 Rebounds, 3 Assists, Steal
Kayla Sturm 3 Points, 2 Rebounds, Assist, Steal
Carmyn Paup 23 Points, 9 Rebounds, 4 Assists, 6 Steals
Grace Cullum 1 Rebound
Hailey Hoyle 2 Rebounds
Box Score
Teams      1      2     3     4    Final
PC              15    15     3      5       38
AC              6     11     15    16      48
Tri Center At Coon Rapids Bayard- Class 1A Region 2 
Coon Rapids Bayard 38
Tri Center 25
The Coon Rapids Bayard defense was outstanding all night, helping them to lead all game as their offense struggled until the 2nd half. The Crusaders didn't allow the Trojans to score in double figures in any quarter, but only led 13-10 at half. Breeley Clayburg was dominating inside as the Trojans were focusing on containing Brynn Bass and the Crusaders outside game. Bass and Jessica Evans were instrumental in the Crusaders extending their lead on the defensive end, combining for 10 of the teams 16 steals. Coon Rapids Bayard stretched the lead to double figures in the 3rd and Tri Center was never able to get any closer.
Breeley Clayburg finished with 15 points and 15 rebounds. Megan Gray added 7 points and Miranda McClellan finished with 6 points and 5 rebounds. Brynn Bass and Jessica Evans each had 5 steals. Lydia Hofbauer added 6 points.
The Crusaders improved to 14-9 on the season, having won 4 straight. They travel to Woodbine on Tuesday. The Tigers knocked off Heartland Christian 65-8. Coon Rapids Bayard played well in both games with Woodbine losing, 50-43 and 61-50.
Coon Rapids Bayard Stats
Brynn Bass 4 Points, Rebound, Assist, 5 Steals
Miranda McClellan 6 Points, 5 Rebounds, 2 Assists
Jessica Evans 6 Rebounds, Assist, 5 Steals
Megan Gray 7 Points, Rebound, Steal
Breeley Clayburg 15 Points, 15 Rebounds, Assist, 2 Steals
Lydia Hofbauer 6 Points, 2 Rebounds, 2 Assists, 3 Steals
Box Score
Teams       1    2     3    4    Final
TC               3     7      6     9       25
CRB            7     6      11   14      38
Griswold At Glidden Ralston- Class 1A Region 2
Glidden Ralston 60
Griswold 42
The Wildcats erupted in the 3rd quarter to open up a close game at halftime. They scored nearly as many points in the 3rd as they had in the 1st half, though they led 24-19 at halftime. Glidden Ralston was able to use their defense to create some easier buckets in the 2nd half, as they finished with 15 steals. Vanessa Koehler and Tiela Janssen teamed up for 9 of them, as they both scored in double figures. The Wildcats outscored the Trojans 20-5 in the 3rd, taking a 20 point lead into the final stanza.
Tielan Janssen had a team high 22 points, leading three Wildcats in double figures. Paige Klocke had another double-double with 13 points and 11 rebounds. Vanessa Koehler had 11 points with 5 steals and 4 assists. Janssen added 4 steals and 4 assists. Macy Snyder added 8 points.
The Wildcats head to Remsen St Mary's on Tuesday. The Hawks beat Ar-We-Va 72-7 to improve to 19-2. Glidden Ralston moved to 10-11.
Glidden Ralston Stats
Vanessa Koehler 11 Points, 4 Rebounds, 4 Assists, 5 Steals
Tiela Janssen 22 Points, 3 Rebounds, 4 Assists, 4 Steals
Macy Snyder 8 Points, 3 Rebounds, 2 Assists
Paige Klocke 13 Points, 11 Rebounds, 3 Assists, 2 Steals
Summer Toms 6 Points, 2  Rebounds, 2 Steals
Elizabeth Lloyd 5 Rebounds, Steal
Brileigh Bock 2 Rebounds, Assist, Steal
Brenna Bowman 2 Rebound
Box Score
Teams        1    2     3    4    Final
Griswold    11    8     5    18        42
GR              15    9    20   16       60
Ar-We-Va At Remsen St Mary's- Class 1A Region 2 
Remsen St Mary's 72
Ar-We-Va 7
It was a tough night as the Rockets struggled with the Remsen St Mary's pressure defense. The Rockets scored 4 points in the 1st half and trailed 50-4 at half. The loss ends the Rockets season at 3-18-1.
Maggie Ragaller had 4 points and 2 rebounds. Timberlen Koch added 2 points.
Ar-We-Va Stats
Sophie Jackson 1 Rebound
Jamie Hausman 1 Point, Steal
Maggie Ragaller 4 Points, 2 Rebounds, Steal
Timberlen Koch 2 Points, Rebound, Steal
Box Score
Teams       1      2     3     4   Final
AWV           2      2      0     3        7
RSM           27   23     13    9      72
Other Region 2 Scores
Woodbine 65 Heartland Christian 8
Boyer Valley 56 West Harrison 43