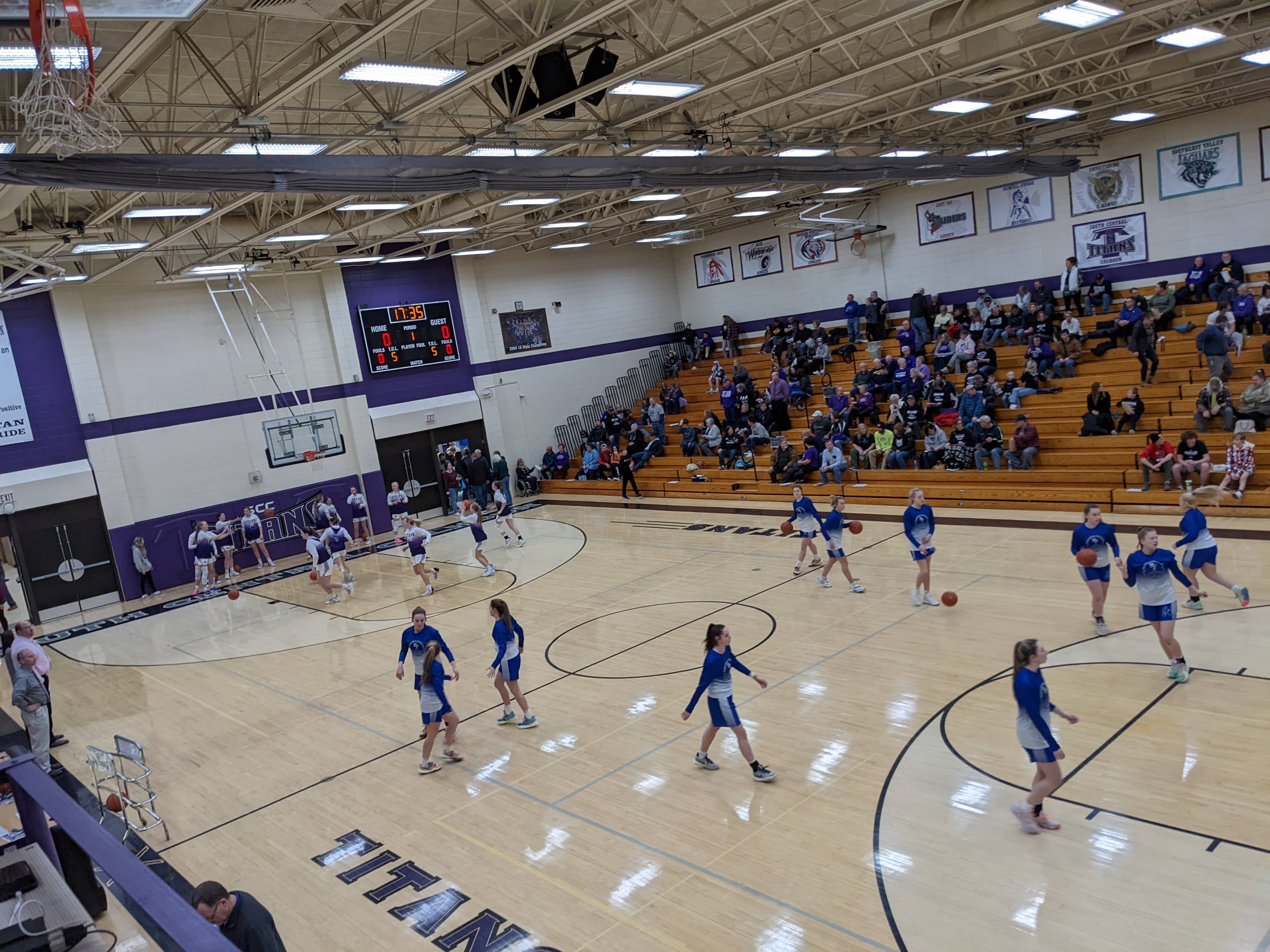 Girls Basketball Results Friday, January 28th 
Newell Fonda At South Central Calhoun
Newell Fonda 55
South Central Calhoun 46
South Central Calhoun kept making runs but couldn't get over the hump as they fell to the number one ranked Mustangs. The Titans trailed by 4 entering the 4th quarter, playing with great energy in the 3rd quarter. They out scored the Mustangs 18-11 in the 3rd by attacking the rim, getting good looks for Sayer Steig and Riley Batta. Steig scored 9 of her team high 19 points in the 3rd. Kylee Schleisman and Emma Anderson were able to break down the defense on the dribble and found Batta and Steig. Batta also did a nice job of passing on the interior, finding Steig for a few buckets. A 4-0 run to end the 1st half put Newell Fonda up 31-20 at half. South Central Calhoun never led again but kept battling, pulling within 42-38 at the end of the 3rd.
Riley Batta found Sayer Steig for the first points of the game as South Central Calhoun came out wanting to play up-tempo and get to the rim. They hung close early with buckets by Kylee Schleisman and Emma Anderson. They grabbed the lead back when Anderson found Riley Batta, putting the Titans up 8-7. A Newell Fonda bucket, changed the lead for the third time. Kylee Schleisman hit a pair of free throws to put the Titans back in 10-9. Riley Batta answered a Mustang three, tying the game at 12-12. Newell Fonda answered with a 3-0 run to end the quarter and a 5-0 after they scored to start the 2nd quarter. The Titans fell down 25-14, but fought their way back, pulling within 27-20 late in the 2nd quarter on a pair of assists by Batta, finding Sayer Steig and Kylee Schleisman for buckets. Macy Sievers took over down the stretch for Newell Fonda with a pair of buckets and the Mustangs were up 11 at half.
Newell Fonda kept the lead close to double digits in the early part of the 2nd half. They went up 11, but Kylee Schleisman found Emma Anderson for a 3 and Riley Batta found Steig under the basket and the Titans were back in the game, down 39-34 after a Steig free throw. South Central Calhoun hung tough, heading into the 4th quarter down 4. A 7-0 run for Newell Fonda to start the 4th quarter put the game out of reach.
Sayer Steig paced the Titans with 19 points, Kylee Schleisman added 11 points, 12 rebounds and Riley Batta finished with 10 points and 9 assists.
South Central Calhoun Stats
Addisyn Korleski 1 Rebound
Riley Batta 10 Points, 6 Rebounds, 9 Assists, Steal
Sayer Steig 19 Points, 3 Rebounds
Kylee Schleisman 11 Points, 12 Rebounds, 4 Assists, Steal
Emma Anderson 5 Points, 2 Rebounds, 3 Assists, 3 Steals
Sophie McKinney 1 Rebound
Chloe Judisch 1 Point, 3 Rebounds
Box Score
Teams     1    2    3   4    Final
NF             15  16   11   13      55
SCC          12    8   18   8       46
Kuemper At Lewis Central 
Lewis Central 48
Kuemper 32
The Kuemper Knights were able to get ahead by two points over a strong Lewis Central team Friday night, but the Titans got right back in the game going into the second half.
The Knights got off to a fairly good start in the first quarter, keeping pace with a Lewis Central team running a 2-3 zone defense. Aubrey Heuton got the Knight's offense started well with a field goal and a three pointer, leading the team in the first quarter with five points. The Titans climbed their way to a four-point lead at 13-9 with a few moments left in the quarter, until Kora Thomsen drained a three pointer to cut down the Titan lead to 13-12 with a few seconds left in the quarter. Thomsen played an important role in the second quarter as both teams struggled to get points on the board. The Titans kept the Knight's shooting options limited but were unable to convert a strong defense with points on the other end. The Titans had a game-low two points in the second quarter, and Kuemper only escaped with five points. The biggest moment from that quarter was Thomsen, once again, draining a three pointer with a few seconds left to give the Knights a two-point lead at 17-15 at halftime. Thomsen led the team after draining that three with six points to her name in the first half.
The Titans returned from the halftime break with revenge on their minds as they came out and shot lights out. The Titans were attacking the high post well in the third quarter and the Knights had little answers defensively. Led by Elise Thramer, the Titans went off for 22 points in the third quarter, capped off by Ashlee McKenzie being fouled at the buzzer as she drained a three pointer from the corner and made the ensuing free throw for a four-point play to end the quarter. The Titans roared back to lead 37-21 going into the fourth quarter. The Knights did a much better job of attacking the basket in the fourth quarter, getting Catherine Mayhall chances to score baskets inside the paint. With the spread-out defense Lewis Central was running, Mayhall was able to slip around and find ways to draw in the Titan defense to get one of her girls open for a shot outside the arc, but she finally found ways to score inside the paint. Mayhall led the Knights with nine points in the fourth quarter, but that was not enough to pull off a late game comeback. The Titans matched the Knights with 11 points in the fourth quarter, giving them the 48-32 victory.
The Knights will fall to 4-14 overall on the season and 2-8 in the Hawkeye Ten Conference. They will finish up their week of competition as they are at home on Saturday, January 29th to take on Sioux City North.
Kuemper Stats
Catherine Mayhall: 11 Points, 5 Rebounds, 2 Steals, 2 Assists
Kora Thomsen: 6 Points, 4 Rebounds, 2 Steals
Akuet Malek: 4 Points, 9 Rebounds, 7 Blocks
Frannie Glynn: 4 Points, 11 Rebounds
Aubrey Heuton: 5 Points, 7 Rebounds, 2 Assists
Karsyn Overmohle: 2 Points, 3 Rebounds
Kaci Peter: 5 Rebounds
Box Score
Teams        1     2     3     4    Final
KUE             12     5     4      11      32
LC                13     2   22      11      48
Carroll At Ballard
Ballard 58
Carroll 16
Carroll struggled against the speed and intensity of the Ballard defense, falling behind 19-1 after the 1st quarter. The Tigers weren't able to recover but kept fighting all game. They trailed 30-7 at half and 44-10 heading into the 4th quarter.
Katelyn Aden, Josie Ayala and Camryn Schable all had 4 points.
The loss drops the Tigers to 6-9 overall and 2-9 in the Raccoon River Conference. They host Bondurant Farrar on Tuesday.
Carroll Stats
Katelyn Aden 4 Points
Hannah Jorgensen 2 Points
Josie Ayala 4 Points
Camryn Schable 4 Points
Addison Klocke 1 Point
Shayne Aschinger 1 Point
Box Score
Teams     1    2    3   4   Final
Carroll      1     6     3   6       16
Ballard    19   11    14 14      58
Underwood At Audubon 
Underwood 41
Audubon 39
Audubon second half rally came close but fell just short after a tough 2nd quarter put them in a hole. The  Wheelers outscored the Eagles in three quarters, leading 10-9 after the 1st quarter. The struggled in the 2nd quarter, having their worst offensive output of the game, scoring 6 points, to trail 26-16 at half. The Wheelers only allowed double digits in the 2nd quarter, giving up 17 points.
Only four Wheelers scored in the game, with Aleah Hermansen scoring a team high 19 points and Jaci Christensen adding 17 points.
The loss drops Audubon to 12-7 overall and 9-5 in the Western Iowa Conference. The Wheelers travel to LoMa on Tuesday.
Audubon Stats
Aubrey Jensen 1 Point
Aleah Hermansen 19 Points
Cheyenne Barber 2 Points
Jaci Christensen 17 Points
Box Score
Teams     1    2    3   4    Final
UWood     9   17    6    9        41
Audubon  10   6   11   12      39
Treynor At IKM-Manning 
Treynor 52
IKM-Manning 17
IKM-Manning slipped to 5-11 overall and 5-8 in the Western Iowa Conference, losing to conference leader Treynor on Friday night. The Wolves offense struggled, hitting 20.7% from the field and 2-11 from three point range. The scored in single digits in all four quarters and turned the ball over 29 times. The defense did pick up 8 steals. Treynor led by 13 at the end of the 1st quarter and but 27 at half.
Taylor Ferneding paced the Wolves with 7 points and Mabel Langel added 6 points as IKM-Manning had four girls score. Megan Williams had a team high 3 steals.
The Wolves head to Missouri Valley on Tuesday.
IKM-Manning Stats
Abby Nieheisel 2 Points, 3 Rebounds, 2 Assists, Steal
Emmie Ring, 2 Rebounds, 2 Steals
Taylor Ferneding 7 Points, Steal
Macie Doyel 1 Rebound
Kaitlyn Spoelstra 1 Rebound
Bailee Germer 2 Points, 2 Rebounds
Mabel Langel 6 Points, Rebound, 2 Assists
Megan Williams 3 Rebounds, 3 Steals
Taylor Beckendorf 1 Steal
Box Score
Teams      1     2    3    4    Final
Treynor     17    15   15    5       52
IKM-M      4       3     5     5       17
Coon Rapids Bayard At Ar-We-Va 
Coon Rapids Bayard 50
Ar-We-Va 15
Coon Rapids Bayard stayed alone in 4th place in the Rolling Valley Conference as their defense created turnovers, allowing them to control the game throughout. Ar-We-Va dropped their third straight but played well on the defensive end and played with more intensity. The Crusaders jumped out quickly, building a 14 point lead by the end of the 1st quarter and were up 25 at half. The Rockets made a run to start the 2nd half and Coon Rapids Bayard used a press to regain their control of the game.
Brynn Bass continues to put together a nice senior season for Coon Rapids Bayard, leading them with 26 points and 5 steals. Megan Gray added 7 points and 4 steals and Miranda McClellan finished with 6 rebounds.
Jamie Hausman led three Rockets who scored with 7 points, Maggie Ragaller added 6 points and 4 rebounds. Timberlen Koch had a team high 8 rebounds.
The Crusaders improved to 9-8 overall and 7-5 in the Rolling Valley Conference. Ar-We-Va slipped to 3-14 overall and 2-11 in the Rolling Valley. The Crusaders go to Grand View Christian on Monday. The Rockets visit West Harrison on Tuesday.
Coon Rapids Bayard Stats
Brynn Bass 26 Points, 2 Rebounds, 5 Steals
Megan Gray 7 Points, 4 Rebounds, 4 Steals
Miranda McClellan 5 Points, 6 Rebounds, Steal
Breeley Clayburg 5 Points, 4 Rebounds 2 Steals
Jessica Evans 4 Points, 4 Rebounds, 2 Steals
Lydia Hofbauer 3 Points, 3 Rebounds, Steal
Shelbi Wiskus 1 Rebound, Steal
Piper Mason 2 Rebounds
Kennedie Thomas 1 Rebound
Ar-We-Va Stats
Maggie Ragaller 6 Points, 4 Rebounds, Block
Jamie Hausman 7 Points, 2 Rebounds, Assist, 2 Steals
Kallie Bromert 2 Rebounds
Samantha Hinners 3 Rebounds
Delaney Schurke 2 Points, 2 Rebounds, Steal
Timberlen Koch 8 Rebounds, 2 Assists, Steal, Block
Sophie Jackson 1 Rebound
Emma Leiting 1 Block
Karime Sanchez 1 Block
Box Score
Teams     1    2     3     4    Final
CRB          18  13     7     12      50
AWV          4    2     6      3       15
Glidden Ralston At West Harrison 
Glidden Ralston 57
West Harrison 34
Glidden Ralston evened the record overall and in the Rolling Valley Conference with their second straight win. The Wildcats had seven different players score with three in double figures. Paige Klocke led the way with 22 points, Tiela Janssen added 13 points and Vanessa Koehler finished with 11 points.
The win improves the Wildcats to 7-7 overall and 5-5 in the Rolling Valley Conference. They head to Boyer Valley on Monday.
Glidden Ralston Stats
Paige Klocke 22 Points
Tiela Janssen 13 Points
Vanessa Koehler 11 Points
Macy Snyder 5 Points
Brileigh Bock 2 Points
Summer Toms 2 Points
Elizabeth Lloyd 2 Points
Box Score
None Reported
Sioux Central At East Sac
Sioux Central 60
East Sac 35
East Sac played really well, except the 3rd quarter. They trailed 26-19 at half, but scored 2 points in the 3rd while giving up 19. They shot 35.1% from the field, including hitting 7-12 from beyond the arc. Makenna Steiger was outstanding from deep, hitting five of six. The Raiders turned it over 24 times, leading to more opportunities for the Rebels. They had 9 assists on their 13 made baskets.
Makenna Steiger led East Sac with 15 points, Mary Bontrager added 9 points and Meredith Brown finished with 10 rebounds.
The loss dropped the Raiders to 4-13 overall and 1-8 in the Twin Lakes Conference. They play at GTRA on Saturday.
East Sac Stats
Mary Bontrager 9 Points, 3 Rebounds, 2 Assists, Steal
Kaytlin Sagert 2 Points, 2 Rebounds
Meredith Brown 10 Rebounds, 2 Assists, 2 Steals
Carly Fischer 5 Points, 3 Rebounds, 2 Assists, 2 Steals, Block
Aleisha Thayer 2 Points
Makenna Steiger 15 Points, 2 Rebounds, Assist
Jen Aschinger 1 Rebound, 2 Assists
Box Score
Teams       1     2     3     4     Final
Sioux Cen  11    15    19    15        60
ESC             10     9     2    14        35
Woodbine At Paton Churdan 
Woodbine 95
Paton Churdan 23
Paton Churdan fell to 0-12 and 0-8 with a loss on Friday to a Woodbine team fighting for second place in the Conference. The Tigers used their size to control the game, jumping in front 27-2 at the end of the 1st quarter. The Rockets best quarter was the 3rd, when they scored 9 points. Paton Churdan shot 18% from the field but went 5-7 from the free throw line.
Emma Stream had a team high 14 points and 6 rebounds. Carmyn Paup added 9 points, 5 rebounds and 3 steals.
The Rockets travel to Exira-EHK on Monday.
Paton Churdan Stats
Haylee Duckett 1 Rebound
Emma Stream 14 Points, 6 Rebounds, 2 Assists, Steal
Kayla Sturm 2 Rebounds, Steal
Carmyn Paup 9 Points, 5 Rebounds,  2 Assists, 3 Steals, Block
Grace Cullum 2 Rebounds, 2 Assists
Box Score
Teams       1    2     3   4     Final
Woodbine 27  26    25  17        95
PC                2    6       9   6         23